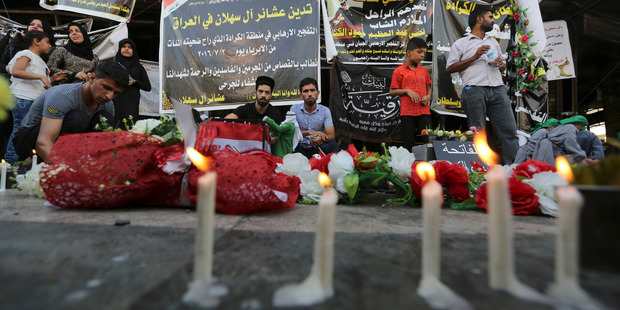 Isis militants have attacked a Shia shrine north of Baghdad, killing 30 people, just days after one of the deadliest ever bombings in the country, a security spokesman said.
The overnight attack on the Sayyid Mohammed shrine in Balad, which involved suicide bombers and gun and mortar fire, also wounded 50 people, the Joint Operations Command spokesman said.
The attack followed a devastating bombing that killed 292 people in Iraq's capital as it tore through a crowded shopping area late on Sunday ahead of the Eid al-Fitr holiday marking the end of the holy Muslim fasting month of Ramadan.
The Sayyid Mohammed shrine, located in the Balad area, about 72km north of Baghdad, was first targeted with mortar rounds, according to the statement on the attack, which said it was carried out by Isis (Islamic State).
Suicide bombers then arrived at the shrine and opened fire, it said.
Two of the bombers blew themselves up in a market next to the shrine, while the third was killed and his explosive belt defused, it said, without specifying which forces killed the bomber.
The attack came just hours after Adila Hamoud, the Iraqi Health Minister, announced that the latest death toll from the Sunday bombing.
Hamoud said the bodies of 115 killed in the bombing had now been handed over to families, while the identities of 177 others have yet to be determined.
The blast also wounded 200.
People have been furious over delays in determining the fate of their loved ones and, with the number of unidentified bodies now higher, it may take even longer.
- AFP