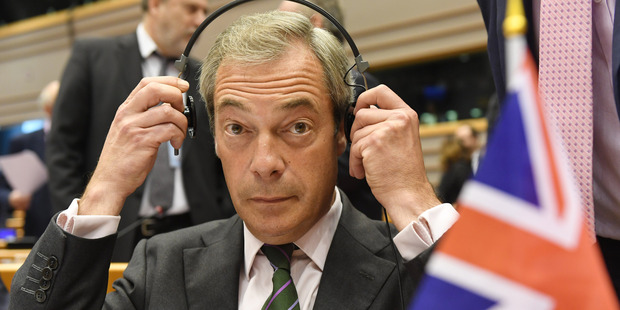 Nigel Farage is standing down as leader of the UK Independence Party, saying he had done his "bit" following the UK's referendum vote to leave the EU.
"The victory for the 'Leave' side in the referendum means that my political ambition has been achieved," he said.
He said the party was in a "pretty good place" and said he would not change his mind about quitting as he did after the 2015 general election.
He said leading the UKIP was "tough at times" but "all worth it".
Farage said the UK needed a "Brexit prime minister".
"I have never been, and I have never wanted to be, a career politician. My aim in being in politics was to get Britain out of the European Union," he said.
"So I feel it's right that I should now stand aside as leader of UKIP."
His departure from politics comes as former London Mayor Boris Johnson said "it was wrong of the Government" not to explain to the electorate how Brexit would work.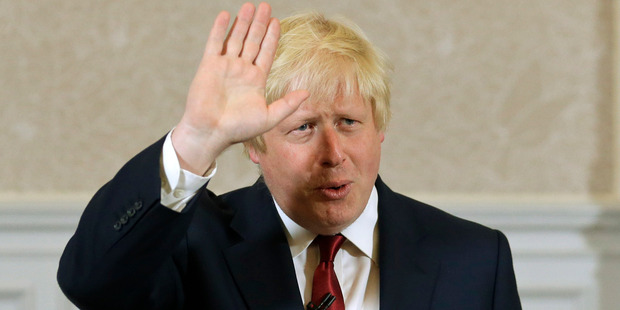 Writing in The Daily Telegraph UK in his first column since pulling out of the Tory leadership race, the blond Brexiteer said that "among a section of the population" there has been "a kind of hysteria, a contagious mourning" since the vote to leave.
He said the recent protests and crowds of young people is "not about the EU project per se", but about them and "their own fears and anxieties that are now being projected on to Brexit".
Johnson said these fears were "wildly overdone" and set out his "basic truths".
"The reality is that the stock market has not plunged, as some said it would - far from it. The FTSE is higher than when the vote took place," he added.
"There has been no emergency budget, and nor will there be.
"But the crowds of young people are experiencing the last psychological tremors of Project Fear - perhaps the most thoroughgoing government attempt to manipulate public opinion since the run-up to the Iraq War." He said it was time for the nonsense claims that the older generation had stolen the future of youngsters, to end.
He added: "It was wrong of the Government to offer the public a binary choice on the EU without being willing - in the event that people voted Leave - to explain how this can be made to work in the interests of the UK and Europe.
"We cannot wait until mid-September and a new PM. We need a clear statement, now of some basic truths."
Will not be watching TV today as cannot bear to see reruns of Nigel's best bits as if he has been knocked out in the Live stages of X Factor

— Jess Phillips MP (@jessphillips) July 4, 2016
Johnson's comments came as the favourite to become Britain's next prime minister vowed to push for an EU trade deal that limits immigration, as a law firm warned Brexit needed parliament's backing to begin.
The shock June 23 vote left politicians at odds over what negotiating position to take and when to begin the official exit procedure from the EU.
Though she campaigned for the "Remain" side, interior minister and Conservative leadership frontrunner Theresa May has said she will honour the result of the referendum and has ruled out holding a general election before 2020.
"The Brexit vote gave us a very clear message that we couldn't allow free movement (of people) to continue as it had," May told ITV, adding that she would seek a guarantee for the status of EU nationals already in Britain.
"It's also about ensuring that we get the best deal possible on the trade of goods and services," she added.
German Chancellor Angela Merkel has insisted a British trade deal would have to include freedom of movement.
Finance minister George Osborne plans to slash corporation tax to under 15 per cent - the lowest for any major economy - in a bid to keep businesses in Britain, the Financial Times reported.
The five rival contenders to succeed Prime Minister David Cameron, who resigned when Britain voted to leave the EU last month, have disagreed on how quickly the country should trigger its exit process.
Farage resigns. Good. British politics takes a small step on the road to making Britain a less divided intolerant + disillusioned country.

— George Freeman (@Freeman_George) July 4, 2016
May, who polls indicate is the most popular candidate, has insisted there should be "no timescale" for the exit, though her rival Andrea Leadsom has pushed for the process to begin quickly.
Once Britain triggers Article 50, the legal procedure for exiting, it will have two years to negotiate terms.
Conservative MPs are due to begin voting this week to whittle their five candidates down to two. The contest has proved turbulent so far.
In amongst all the political wrangling and back-stabbing has been some lighter moments.
This past weekend singer Lily Allen attended a garden party where Nigel Farage was present with media mogul Rupert Murdoch and Evgeny Lebedev. She documented the soiree on Twitter, including Farage's eye-catching shoes.
I'm at a garden party. Hope I'm not sitting next to Voldemort or Fromage. I might be sick pic.twitter.com/ILsuu6kDPM

— lily (@lilyallen) July 3, 2016