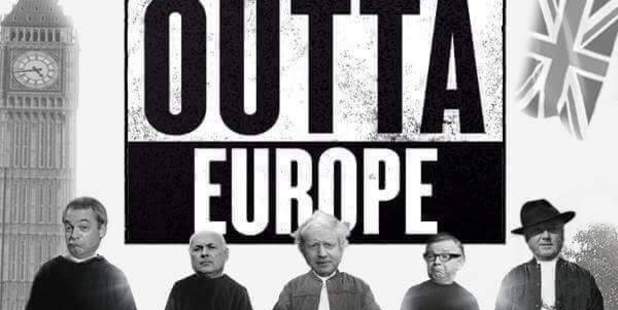 You've got to hand it to the Brits - they certainly know a thing or two about grim humour.
While half the country reacts ecstatically to the vote to leave Europe, the other half has woken up reeling at how the pollsters and bookies have got it so wrong, and took to social media to express their dismay.
One of those completely bewildered by the result was 24-year-old Elliot Fisher from Reading.
"What a campaign. It's safe to say that this country is full of F***ING MORONS!" he posted on his Facebook page.
"Northern Ireland and Scotland already discussing their departure from the UK to remain in the EU. So the Brexiters who wanted "to make Britain great again" have f***ed us all. I'm moving to Scotland until London declares itself the republic of reason and declares independence from England."
Fisher said people voted to leave for the wrong reasons, and Britain would pay the price.
"I think people have been hugely mislead by the leave campaign and that the vote represents not so much a desire to leave the EU but a desire to go against the political establishment," Fisher told news.com.au.
"We are already seeing the negative effects of leaving and it's only day one.
"It feels like we have just taken a huge step in the wrong direction and I am both sad and angry about the result."
He said the country would come to regret the outcome, but had an amusing solution for how he would deal with the impending exit.
"Our main priority now is to stop hatred and bigotry from defining who we are. It was a bad decision to leave and we should now sit down and have a real look at who we are as a country," Fisher said.
"I will be drinking and eating as much European cheese and wine as I can this week to soften the sadness before it becomes more expensive than my house."
Fisher wasn't alone in his shock, and Brits have found the time to post some hilarious reactions online. Take a look at some of the best below.
Straight Outta Europe #funny #LOL pic.twitter.com/BtYXILO21Q

— Nazi Jokes (@NaziJokes11) June 24, 2016
Pretty much the mood of the Brexiteers today! #EURefResults #Brexit #facists #rikmayall pic.twitter.com/N3RqXOsHxW

— ? Ashley ? (@Ashley_kee) June 24, 2016
Current mood:#brexit pic.twitter.com/ULIE8xmcfA

— Cande. (@CandeCrush) June 24, 2016
Others have lamented what has been lost and pointed out a Fox news mistake saying that the UK voted to leave the UN.
This FT reader is sadly accurate on #Brexit pic.twitter.com/GA7lHCqX6v

— Johan H. Andresen (@FerdOwner) June 24, 2016
.@FoxNews takes it all again#UK votes to leave UN#fail after fail
No comment on this#Brexit #referendum pic.twitter.com/SXOAF38Suc

— Irma Antonia Plavcic (@Irma_A_P) June 24, 2016
WE WERE ON A BREXIT !!!!!!!! pic.twitter.com/uOlVRRaz7i

— David Delachaîne (@Ganeshdeux) June 24, 2016
What just happened, explained with food.
H/T @nehedari @ibnezra #Brexit pic.twitter.com/8jVfTgDsfn

— Camilla Schick (@CamJourno) June 24, 2016
Would you say it's time for our viewers to crack open each others skulls and feast on the goo inside? #Brexit pic.twitter.com/zJvVgY1pzz

— The Simpsons (@Simpsons_tweets) June 24, 2016
The difficult extraction process from the European Union is expected to begin in October once a new Prime Minister has been elected.