An emotional David Cameron has announced his resignation as Prime Minister after the historic EU referendum delivered clear backing for Brexit.
The Prime Minister said he accepted the verdict of the 'great democratic exercise' which saw the Leave campaign triumph after stacking up votes across England and Wales - despite massive support for Remain in Scotland and major cities including London.
Bank of England governor Mark Carney moved to reassure panicking markets this after the Pound nose-dived to its lowest level against the US dollar for 31 years, and the stock market slumped by 8 per cent. SNP leader Nicola Sturgeon has already raised the prospect of a second independence referendum in Scotland.
Labour leader Jeremy Corbyn is also coming under intense pressure over his role in the botched Remain campaign.
Flanked by wife Samantha in Downing Street, Mr Cameron said he had been "proud" to serve as PM for the past six years.
But he said it would not be right for him to be the "captain of the ship" while the UK negotiated its exit from the EU.
"I held nothing back. I was absolutely clear about my belief that Britain is stringer, safer and better off inside the EU," he said.
"And I made the referendum was about this and this alone - not the future of any single politician including myself.
"But the British people have made a very clear decision to take a different path and as such I think the country requires fresh leadership to take it in this direction."
Choking back tears, Mr Cameron said he would not depart immediately and would seek to calm the markets over the coming "weeks and months".
But he said a new Prime Minister should be in place for the Conservative Party conference in October. Boris Johnson, who led the Brexit campaign, will be the overwhelming favourite to take over.
"I will do everything I can as Prime Minister to steady the ship over the coming weeks and months but I do not think it would be right for me to try to be the captain that steers our country to its next destination," he said.
"This is not a decision I have taken lightly but I do believe it is in the national interest to have a period of stability and then the new leadership required.
"There is no need for a precise timetable today but in my view we should aim to have a new Prime Minister in place by the start of the Conservative Party conference in October."
He added: "Delivering stability will be important. And I will continue in post as Prime Minister with my cabinet for the next three months."
Mr Cameron said he had spoken to the Queen this morning to alert her to his decision. He also said he would not be triggering Article 50 of the Lisbon Treaty - the formal mechanism for leaving the EU.
"The negotiation with the EU will need to begin under a new Prime Minister and I think it is right this new Prime Minister takes the decision about when to trigger Article 50 and start the formal and legal process of leaving the EU," Mr Cameron said.
"The British people have made a choice that not only needs to be respected but those on the losing side of the argument, myself included, should help to make it work.
"Britain is a special country, we have so many great advantages - a Parliamentary democracy where we resolve great issues about our future through peaceful debate.
"A great trading nation with our science and arts, our engineering and creativity, respected the world over.'And while we are not perfect, I do believe we can be a model of a multi racial, multi faith democracy where people can come and make a contribution and rise to the very highest their talent allows."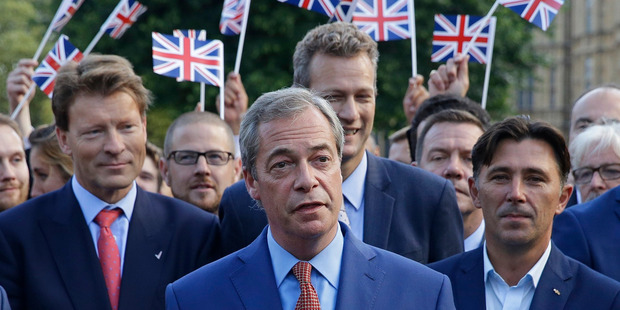 He went on: "Although leaving Europe was not the path I recommended, I am the first to praise our incredible strengths. I have said before Britain can survive outside the EU and indeed that we could find a way.
"Now the decision has been made to leave, we need to find the best way. I will do everything I can to help.
"I love this country, and I feel honoured to have served it and I will do everything I can in future to help this great country succeed."
The bombshell announcement came after a night of high drama that included:
• Sunderland voted by a massive 61 per cent to 39 per cent for Brexit - far higher than expected. In Swansea, where Remain had been forecast to win by 10 percentage points, Leave ended up by 52 per cent to 48 per cent.
• Among a slew of poor results, Remain also only won by 51 per cent to 49 per cent in Newcastle, less than many had anticipated.
• The final outcome of the referendum was 51.9 per cent for Leave to 48.1 per cent, with the winning margin more than a million votes.
• The news sent the Pound plunging against the US dollar, losing around 20 cents to hit its lowest level since 1985. The stock market is also expected to open down around 8 per cent.
• The Bank of England has moved to reassure investors that it will take 'all necessary steps' to stabilise the economy
• The Brexit victory came despite Mr Farage admitting seconds after polls closed that Remain looked to have 'edged' the referendum. Boris Johnson reportedly told a passenger on the Tube that his side had lost the referendum battle.
• Final polls had also predicted a Remain victory by up to 54-46.
• More than 80 Tory Brexit backers writing to David Cameron urging him to stay on in Downing Street whatever the outcome.
New Zealand Prime Minister John Key said it had been "a privilege" to work alongside Mr Cameron.
"He has been a strong leader for Britain, and I'm proud to call him a friend.
"I look forward to working with him during his final months in office."
On the decision to leave the EU, Mr Key said: "This was always a decision for voters in the UK and we respect the decision they have made.
"We will continue to have a strong relationship with both the EU and the UK, and to further develop our ties with both. In this respect nothing has changed.
"The UK remains a member of the EU for the moment and it will take some time to work through the implications of their decision to leave," he said.
"In terms of our existing trade arrangements, the immediate effects of the leave vote on New Zealand are likely to be limited and we expect that trade and other business activities will continue smoothly in the interim.
"We remain committed to the launch of formal negotiations on an EU FTA, and will be working with the UK as they go through the process of leaving the EU to put in place new trading arrangements," Mr Key said.
The direction of the battle started to become clear with a shock result in Sunderland which saw the Out camp win by 61 per cent to 39 per cent. Analysis before the referendum had suggested Leave could be on track to win if they were more than six percentage points ahead.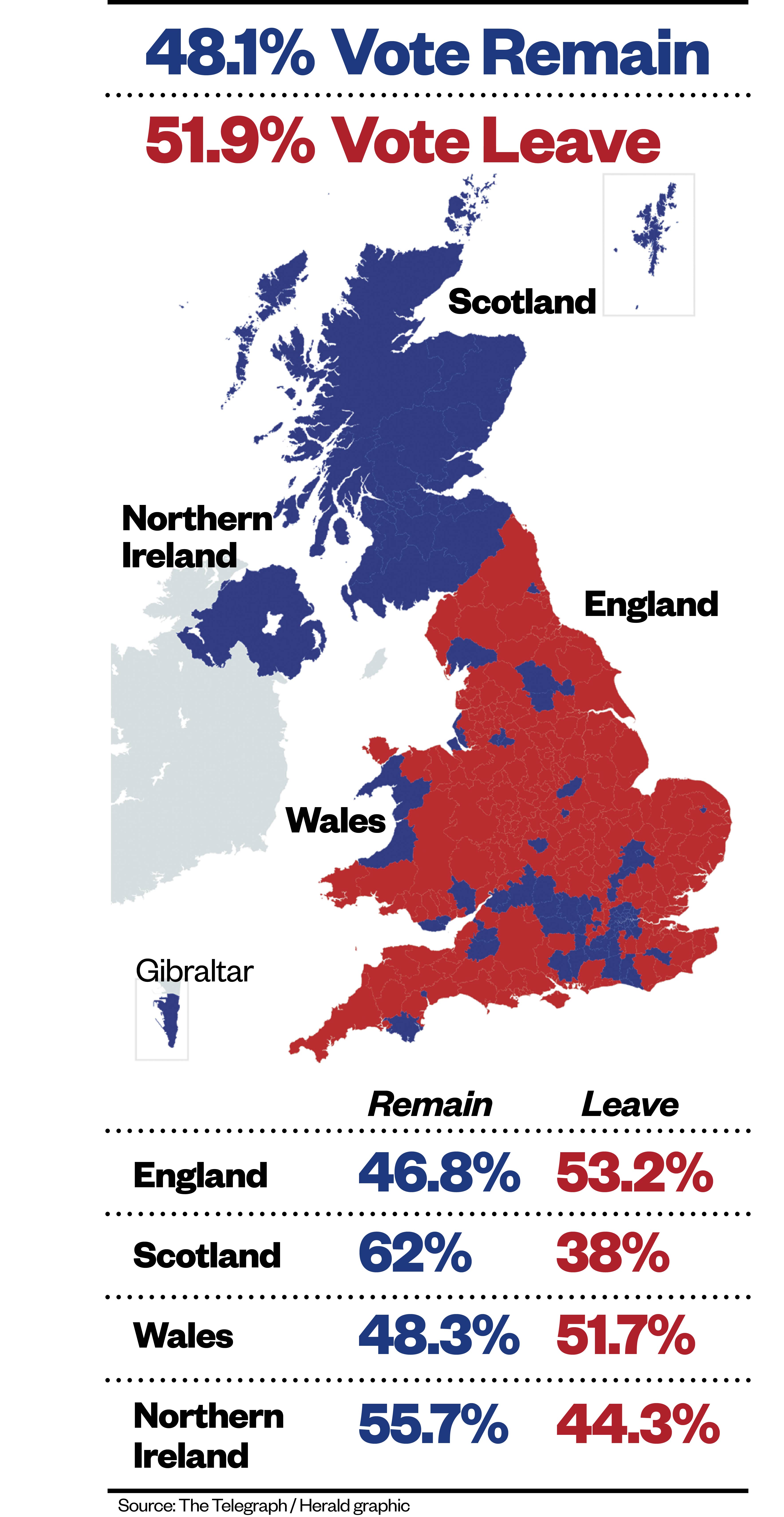 A surprise victory for Brexit in Swansea, where the pro-EU side had been expecting to romp home, signposted a disastrous showing for Remain across Wales. Areas like Carmarthenshire decisively turned their back on Brussels.
Newcastle was less clear cut for the pro-EU side than they had hoped, seeing them sneak home by just 51 per cent to 49 per cent.
Remain had some bright spots, with chunky wins in London, Scotland and Oxford. Wandsworth in particular piled in with a massive 77 per cent in favour of staying.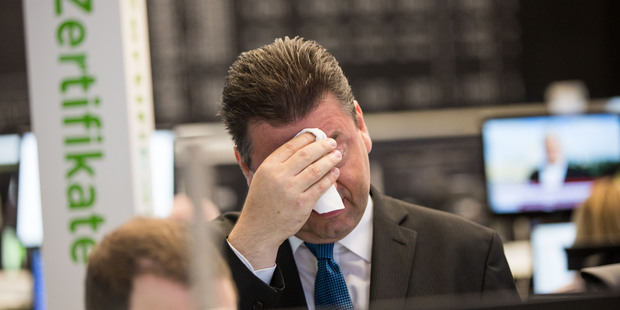 However, the big English cities and Scotland were not enough to offset the will of the rest of the country, and Leave passed the finishing post at 6am.
Speaking at a jubilant Leave. EU rally in central London, Mr Farage said June 23 would go down in history as "our independence day".
In a remark that could prove controversial after Labour MP Jo Cox was shot dead last week, Mr Farage said the country was separating from the EU "without a single bullet being fired."
"Dare to dream that the dawn is breaking on an independent United Kingdom," he said.
"This, if the predictions now are right, this will be a victory for real people, a victory for ordinary people, a victory for decent people.
"We have fought against the multinationals, we have fought against the big merchant banks, we have fought against big politics, we have fought against lies, corruption and deceit.
"And today honesty, decency and belief in nation, I think now is going to win.
"And we will have done it without having to fight, without a single bullet being fired, we'd have done it by damned hard work on the ground."
Mr Farage praised Ukip donor Arron Banks along with Labour and Tory MPs and those of "no party" who have taken part in the Leave campaign.
He went on: "And we'll have done it not just for ourselves, we'll have done it for the whole of Europe.
"I hope this victory brings down this failed project and leads us to a Europe of sovereign nation states, trading together, being friends together, cooperating together, and let's get rid of the flag, the anthem, Brussels, and all that has gone wrong.
"Let June 23 go down in our history as our independence day."
Setting the stage for another independence referendum north of the border, Scottish First minister Nicola Sturgeon said: "Scotland has delivered a strong, unequivocal vote to remain in the EU, and I welcome that endorsement of our European status.
"And while the overall result remains to be declared, the vote here makes clear that the people of Scotland see their future as part of the European Union."
The SNP leader added: "Scotland has contributed significantly to the Remain vote across the UK. That reflects the positive campaign the SNP fought, which highlighted the gains and benefits of our EU membership, and people across Scotland have responded to that positive message.
"We await the final UK-wide result, but Scotland has spoken - and spoken decisively."
Former first minister Alex Salmond told the BBC: "Scotland looks like it is going to vote solidly Remain. If there was a Leave vote in England, dragging us out the EU, I'm quite certain Nicola Sturgeon would implement the SNP manifesto."
Shadow foreign secretary Hilary Benn told the BBC he did not think the PM was "going to remain in his job for very long at all."
"If you are the Prime Minister, you've called this referendum, you've laid your reputation on the line and your arguments, I think it's going to be very hard."
Former Europe minister and Labour MP Keith Vaz told the BBC the outcome would be a "catastrophe". "Frankly, in a thousand years I would never have believed that the British people would have voted this way," he said.
"And they have done so and I think that they voted emotionally rather than looking at the facts.
"It'll be catastrophic for our country, for the rest of Europe and indeed the world."
He added: "The issues of immigration are extremely important, if you look at the campaign I think that there needed to be a much stronger campaign to stay in."
Labour's Jonathan Ashworth said the Conservative Party was "utterly preoccupied with leadership infighting rather than the future of the country", adding: "This letter cannot unsay what senior Tory politicians have been telling us for weeks - that the British people simply cannot trust David Cameron."
Lib Dem former Cabinet minister Sir Vince Cable said Mr Cameron's authority would be "completely gone" in the event of a Leave win and he would have to stand down.
He described holding the referendum as a "very bad call" by the Prime Minister, who failed to understand what happens "when you just throw the cards in the air".
But senior Tories rallied round to try to protect the PM. Cabinet minister Chris Grayling - a Brexit backer - said: "It would be an absolute nonsense if David Cameron felt, having given the country that choice, if they take the decision he couldn't carry on the job. We are completely behind him staying, we want him to stay and that letter is a statement of commitment to his leadership."
Work and Pensions Secretary Stephen Crabb said he did not think the Prime Minister "could have done any more" and it was "absolutely essential" that he remains in No 10.
He said: "There isn't anybody else around the Cabinet table or outside the Cabinet, for that matter, or in any of the other political parties who can give this country the kind of leadership skills and abilities that David Cameron can at this, what is going to be very challenging weeks and months for the country."
He added: "I just think there is a disconnect with the white working class. We didn't get our core messages across to them.
"When we tried to explain to them just how important the European Single Market was to their jobs, their livelihoods, we didn't quite land those messages successfully.
"And I think that is one of the themes that is emerging this evening is that old industrial white working class areas clearly haven't bought the message that we have tried hard to communicate.
"In those areas which are strongly perhaps white working class there will be a strong vote for Out and that's something as a Government we need to respond to.
"Clearly, I think one of the features of this referendum are some of those social divisions and clearly as a Government, as a political class, all parties, we need to show that we're responding to that."
Pro-Brexit former defence secretary Liam Fox called for a "period of calm" and urged the Government not to invoke article 50 straight away while insisting Mr Cameron must stay on as PM.
Dr Fox told BBC News: "A lot of things were said in advance of this referendum that we might want to think about again and that (invoking article 50) is one of them.
"I think that it doesn't make any sense to trigger article 50 without having a period of reflection first, for the Cabinet to determine exactly what it is that we're going to be seeking and in what timescale.
"And then you have to also consider what is happening with the French elections and the German elections next year and the implications that that might have for them.
"So a period of calm, a period of reflection, to let it all sink in and to work through what the actual technicalities are."
Business Minister Anna Soubry said: "I will respect the result. It's a dreadful decision. We have to make the best of it."
Former cabinet minister Sir Eric Pickles said: "Very sad at the decision #EUref , but that is how democracy works, so we better get on with it"
Shadow chancellor John McDonnell said he believed around two-thirds of Labour voters backed Remain.
"A lot of Conservative voters have gone for out. There's a solid base on the Tory party for out that have gone against their own Prime Minister," he told Sky News.
"Within the Labour vote I think it looks as though two-thirds one-third split, might be less than that, we'll see."
Ex Labour leader Ed Miliband said a Remain majority would be "a vote for staying in the EU, but not a vote for the status quo in this country".
"Whatever happens, the country will need to come together, there will need to be healing," he said.
"'It's a nation divided and the PM will have a big responsibility - particularly if it's a Remain win - to show he understands what people are saying on the Leave side of the argument.
"Labour faces that responsibility too. As far as Labour voters are concerned, there are two issues. There is obviously immigration, but beneath that there is a whole set of issues about people's lives and the fact that they don't feel politics is listening to them."
Ukip MEP Diane James said the large win for Leave in Sunderland could be down to anger over the local Nissan car plant writing to employees to make clear the company would prefer Britain to stay in the EU.
She told BBC News: "Nissan, I believe, was one of those companies that was effectively asked by the Prime Minister to write a letter to the employees and I think what you're seeing here is the reaction to that, which I understand has been quite widespread across the country where people have actually taken offence at being directed to do something and then seemingly that whole message has been undermined in the later stage."
The Bank of England said it would take "all necessary steps" to ensure monetary and financial stability in the wake of the Brexit vote.
"The Bank of England is monitoring developments closely," it said in a statement.
"It has undertaken extensive contingency planning and is working closely with HM Treasury, other domestic authorities and overseas central banks. The Bank of England will take all necessary steps to meet its responsibilities for monetary and financial stability."
But Standard & Poor's said the Brexit decision was likely to see the country lose its AAA credit rating - potentially driving up the cost of government borrowing.
Chief ratings officer Moritz Kraemer told the Financial Times: "We think that a AAA-rating is untenable under the circumstances."
The turnout in parts of Scotland were lower than the rest of the country, with Glasgow at 56.3%. In Glasgow 253,000 ballot papers were verified out of a total electorate of 449,806.
Moments after the polls closed at 10pm last night Mr Farage appeared to concede defeat.

"'It's been an extraordinary referendum campaign, turnout looks to be exceptionally high and it looks like Remain will edge it," he said.
"Ukip and I are going nowhere and the party will only continue to grow stronger in the future."