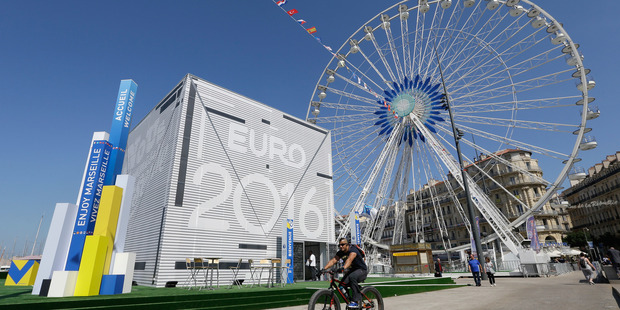 Britain warned today that stadiums and fan zones could be targeted during Euro 2016, adding to security fears over the football extravaganza in France.
The warning came a day after Ukraine announced the arrest of a suspected far-right French extremist with a massive weapons cache who was allegedly planning a string of attacks to coincide with the tournament.
The Foreign Office warned British citizens there was a "high threat from terrorism" during the month-long championship, though Prime Minister David Cameron's spokeswoman said the advice was not a response to the arrest.
"During Euro 2016, stadiums, fan zones, venues broadcasting the tournament and transport hubs and links represent potential targets for terrorist attacks," the Foreign Office said.
French Foreign Minister Jean-Marc Ayrault, on a visit to London, said he had reassured his British counterpart Philip Hammond "and reminded him of the excellent cooperation between our intelligence services and police".
The US State Department gave a similar warning last week, adding that "unaffiliated entertainment venues broadcasting the tournament in France and across Europe" were also potential targets.
France has mobilised 90,000 security personnel to guard Euro 2016.
The country is still under a state of emergency following November's suicide bombings and shootings in Paris that left 130 people dead and were claimed by Isis (Islamic State).
Just three days before the opening match between France and Romania, France also faces the threat of continued disruption to rail travel due to strikes that have paralysed parts of the network for a week.
Unions voted to continue the train strikes for an eighth day despite receiving an improved offer on pay and conditions from state-run operator SNCF in all-night talks.
"There comes a time when you need to know when to stop a strike," President Francois Hollande said.
The CGT union, which has led three months of protests and strikes against controversial government labour reforms, replied sardonically: "There comes a time to end a strike, but only when we have got satisfaction."
The rail strike was limited in scope, but even if trains return to normal the threat of a walkout by Air France pilots still hangs over the four-yearly gathering of Europe's top football nations.
The pilots are set to ground planes for four days from this weekend over pay, just when an estimated two million foreign visitors will begin heading for France.
The unions have also called for a national day of demonstrations on June 15 against the labour reforms, which are designed to make it easier to hire and fire people, but which opponents say will erode job security.
- AFP