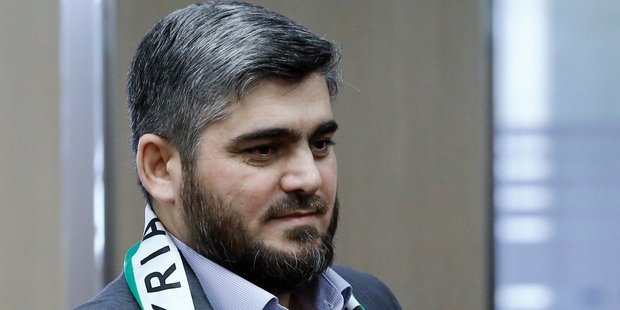 The Syrian opposition's chief negotiator has resigned over what he has called the failure of peace talks.
Mohammed Alloush announced his resignation on Sunday citing the failure of the United Nations-brokered negotiations and the continued shelling of rebel-held areas by President Bashar al-Assad's regime.
"The three rounds of talks were unsuccessful because of the stubbornness of the regime and its continued bombardments and aggressions towards the Syrian people," Alloush, a member of the influential Jaish al-Islam (Army of Islam) rebel group, said in a statement on Twitter.
He also accused the international community of not doing enough to ease the suffering of the Syrian people, condemning its "inability to enforce resolutions, in particular regarding humanitarian issues, [such as] the lifting of sieges, access to aid, the release of prisoners and adherence to the ceasefire".
The regime and non-jihadist rebels agreed a shaky ceasefire in February to bolster the peace talks but repeated violations have left the truce hanging by a thread.
"The endless negotiations are harming the fate of the Syrian people," added Alloush. "I therefore announce my withdrawal from the delegation and my resignation" from the main opposition High Negotiations Committee (HNC).
The last round of peace talks in Geneva reached a deadlock in April when the HNC suspended its participation over an escalation of fighting on the ground.
A new round of talks had been expected for the end of this month, but no new date has been announced.
The UN's peace envoy for Syria, Staffan de Mistura, on Friday said he had no plans to convene another round in the next two or three weeks.
Diplomats have said there was little chance that the opposition would take part in new peace talks if violence was raging and no aid was reaching civilians.
The talks aim to reach a political settlement to end the five-year war that has left 280,000 dead and driven millions from their homes.
The fate of Assad has been a key stumbling block in the negotiations, with the opposition insisting any peace deal must include his departure while Damascus says his future is non-negotiable.
On the ground in Syria meanwhile, Syrian rebels retook two villages from Isis (Islamic State) yesterday as they fought to undo gains made by the extremist group in a surprise offensive days earlier, activists said.
Rebels retook the villages of Kafr Shoush and Braghida, expanding their buffer around the rebel-held town of Azaz, home to tens of thousands of people displaced by war, according to the Local Co-ordination Committees, an activist network inside the country.
Isis militants took Syrian rebels by surprise on Sunday when they launched an offensive that threatened to seize Azaz and isolate Marea, another rebel-held town north of the contested city of Aleppo.
Further east, US-led coalition warplanes targeted Isis positions north of Raqqa, killing 45 Isis fighters, the Observatory said.
- AFP