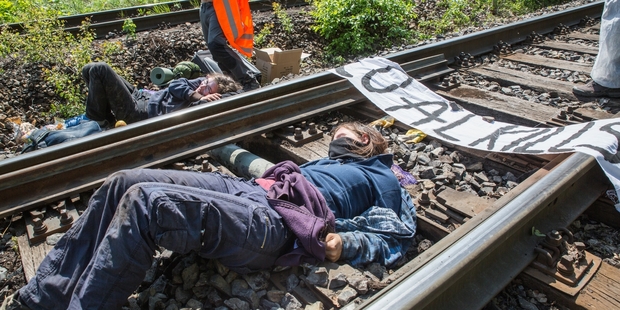 Five months after ushering in a landmark climate deal, diplomats kicked off a new round of talks yesterday tasked with converting a political blueprint into a workable plan.
"The whole world is united in its commitment to the global goals embodied in the Paris Agreement," the United Nations' outgoing climate chief, Christiana Figueres, told the 196-nation UN climate body at the start of a 10-day session in Bonn. "Now we must design the details of the path to the safe, prosperous and climate-neutral future to which we all aspire."
That remains a daunting task, negotiators and experts agreed.
The targets set are hugely ambitious, and the rift between rich and developing countries - sufficiently reconciled to seal the deal in December - remains just beneath the surface.
The new goal of capping global warming at "well below" 2C means nothing less than weaning the world economy off fossil fuels within a few short decades.
It will also require mobilising trillions of dollars to help poor countries green their economies and brace for climate impacts.
Most of the details on how this will happen have yet to be worked out.
Voluntary national pledges in the Paris pact to slash carbon pollution - going into effect in 2020 - would still warm Earth's surface by at least 3C, a cataclysmic scenario, say scientists.
A single degree Celsius of warming since the pre-industrial benchmark has already seen a crescendo of devastating storms, droughts and rising seas.
US national scientists said over the weekend that last month was the warmest April recorded - the seventh consecutive month to exceed previous highs.
"The only question is whether we join together quickly and boldly enough to avoid catastrophe," Thoriq Ibrahim, Environment Minister for the Maldives and chairman of the Alliance of Small Island States (AOSIS), told the plenary.
One of the UN body's most urgent tasks is orchestrating the ramping up of national plans to cut carbon pollution.
The next "political moment" when countries could deepen their commitments is a so-called stocktaking in 2018.
At the same time, the developing world is concerned that too much of the US$100 billion ($145 billion) a year promised by wealthy nations starting in 2020 will be spent on curbing greenhouse gases and not enough on boosting climate resilience.
"For our endeavours to be achieved, enhanced and adequate financial and technology support ... must be provided," a Thai diplomat, speaking for the 134-nation "G77 and China" bloc, said at the opening plenary.
Poor countries already reeling from disrupted agriculture and storm-battered coastal cities are also seeking additional funds - under a provision called "loss and damage" - to repair harm done, not just prepare for future impacts.
Fast-track ratification of the Paris Agreement - likely for early next year - would help push the UN forum to flesh out the rules and procedures needed to move forward, experts say.
"There is a lot of work to be done before 2020 to give life to those commitments that were made in Paris," said Alden Meyer, a climate analyst with the Washington-based Union of Concerned Scientists.
Thousands of climate activists around the world, meanwhile, wrapped up a co-ordinated, 12-day civil disobedience campaign to promote the wholesale switch to renewable energy.
Spearheaded by NGO 350.org, the "Break free from fossil fuels" action saw campaigners disrupt coal production, occupy mines and block rail lines in a dozen countries, including Britain, South Africa, the United States, Brazil and Germany.
Fossil fuels still account for more than 80 per cent of energy consumption worldwide, though renewables in 2015 for the first time added more new capacity than all other sources combined, including oil, coal and gas.
The decline in coal has been particularly swift, with several major companies filing for bankruptcy, and investors moving their money elsewhere.
The UN climate talks run through to May 26, and are also tasked with laying the groundwork for the next high-level gathering in November, in the Moroccan city of Marrakesh.
- AFP