The Duke and Duchess of Cambridge have been touring India this week. They've played cricket, kicked a football, tried archery and even experienced an earthquake.
A moment which has caught the eye of people online, however, is how white the Duke's hand was after shaking that of Prime Minister Narendra Modi of India.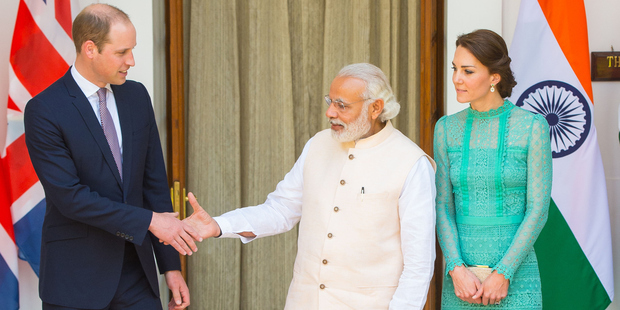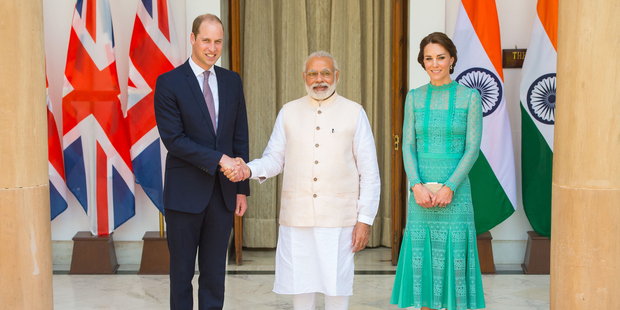 Prince William maintained Royal composure in what appeared to be a vice-like grip.
People online were quick to point out the trial faced by the Royal, as Princess Kate stood by, helpless:
LOL! Zoom in & take a look at William's hand. https://t.co/ipiHthaoxi

— SamSays (@samjawed65) April 14, 2016
Wat is er aan de hand, William? https://t.co/HCqwHMqRoI #nieuwsblad pic.twitter.com/MwtcCHx1S5

— Het Nieuwsblad (@Nieuwsblad_be) April 14, 2016
?????? That's how Narendra Modi shook hand with Prince William. ?? pic.twitter.com/nA3mtUrqhH https://t.co/KTPxXflYC9

— Atin (@Atin09) April 13, 2016
Most powerful handshake bw @narendramodi n prince william.
Evidence is below! ???? ???? ??! pic.twitter.com/Bh926PoCtp

— Peeyoosh Kumar (@peeyooshkumar) April 14, 2016
Latest prey to knuckle-crackin handshake of India's PM @narendramodi:
Duke of Cambridge, Prince William
See last pic pic.twitter.com/ih3bNAIRph

— IBTL (@IndiaBTL) April 13, 2016
Modi is apparently famed for having one of the strongest handshakes in international diplomacy.
He also isn't afraid to get up close and personal with other world leaders.
President Francois Hollande of France fell victim to mockery on the internet thanks to his pained expression as he was hugged by Modi:
President Hollande and PM Modi engaging in back to back talks. pic.twitter.com/2VBu2bb7hr

— Purba (@Purba_Ray) January 24, 2016
Luckily for her, the Duchess of Cambridge has managed to avoid sticky situations, managing to play cricket in wedge heels and a floating dress, and fearlessly feeding a rhino by hand.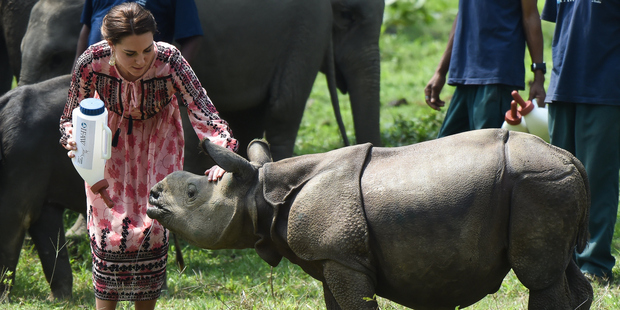 The pair have recently been in Bhutan, a Buddhist country sandwiched between India and China.
Kensington Palace said the two-day visit - a sizeable chunk of the couple's week-long visit to Asia - was arranged at the request of the Foreign Office because: "The relationship with Bhutan is important, as it is a new democracy in an important part of the world that the UK wants to be able to have a relationship with."
On a more personal level, the Palace spokesman said the Duke and Duchess were keen to get to know "a young king and queen with whom they will have a long relationship".