Citizens take action as politicians point to poor services for black communities.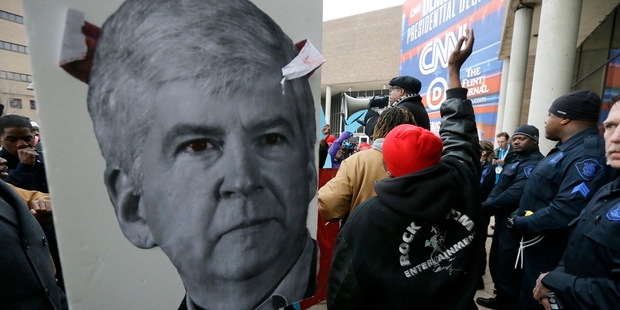 Would the scandal surrounding the lead-contaminated water in Flint, Michigan happen if the residents were rich white people?
Democrats Hillary Clinton and Bernie Sanders raised this sensitive question on Monday as they highlighted the health disaster blamed on penny-pinching political decisions in this city that once relied heavily on the vehicle industry.
The political rivals found common cause in their criticism of Michigan's Republican Governor Rick Snyder, calling for him to resign.
The latest in a series of lawsuits stemming from the contamination was filed yesterday on behalf of the city's residents against Snyder as well as other current and former government officials and corporations. The federal lawsuit - which is seeking class-action status - alleges that tens of thousands of residents have suffered physical and economic injuries and damages. It argues officials failed to take action over "dangerous levels of lead" in drinking water and "downplayed the severity of the contamination" in the financially struggling city.
Both Democratic candidates agree that Flint's neglected water distribution network, eaten away by corrosion, needs an overhaul.
They called for more action from the federal Government, and accountability overall.
But the two presidential contenders are also targeting their strongest messages at Flint's black community and, beyond, at African Americans suffering economic and social injustices elsewhere in the United States.
Some are calling the Flint scandal an example of environmental racism.
The expression has been used in recent decades to describe how African Americans are disproportionately exposed to pollutants in air, water and the ground.
Segregation may have been abolished nationwide in 1964, a century after the Emancipation Proclamation, but African Americans still have lower wages and poorer housing conditions than whites on average.
"African American communities across the nation have always been disproportionately representative of the toxic areas," said Laura MacIntyre of the University of Michigan-Flint.
"Most of the people that bear the brunt of living in the polluted areas or next to incinerators or factories or all sorts of places that have toxic or hazards as waste are communities of colour, and Flint is no exception.
"It is a racial issue in terms of the fact that we have to deal with it disproportionately."
Those inequalities were similarly illustrated in the aftermath of the devastation Hurricane Katrina brought on New Orleans in 2005.
After losing about half its population and nearly all of its vehicle industry, Flint now has about 100,000 inhabitants - 57 per cent of them African Americans, and nearly half of residents in poverty.
A recent study found that the percentage of children with elevated levels of lead in their blood increased "particularly in socioeconomically disadvantaged neighbourhoods". It noted that ageing infrastructure was to blame for more children being exposed to lead through tap water.
Flint has the highest home vacancy rates in the United States - with 7.5 per cent of homes empty - according to a RealtyTrac report.
That's nearly five times higher than the 1.6 per cent national average.
The situation is even worse in Flint's northern, primarily African American, neighbourhoods. Some streets are completely deserted, with house after house boarded up or dilapidated.
"We lost a lot of schools, I can't tell you how many schools, and you see how the water situation was ignored ... This wouldn't have happened in a white neighbourhood," said Charles Marion, a father of three.
That's a theme Clinton, who has a strong African American voter base, has repeated recently.
"If the same thing that's happening in Flint had happened in Grosse Pointe or Bloomfield Hills, I think we all know that we would've had a solution yesterday," she said, referring to wealthy suburbs of Detroit.
Civil rights activists are taking up the cause as well.
While the Oscars ceremony took place a week ago amid controversy over the lack of diversity in Hollywood, Flint was organising a Blackout for Human Rights concert, with a "Justice for Flint" theme and Stevie Wonder as surprise guest star.
Inspired by the Black Lives Matter movement protesting police shootings of African Americans, the slogan "Flint Lives Matter" has been taken up online and in protests.
"The water crisis in Flint is one of many ways state agencies and elected officials have sanctioned violence against black people," Black Lives Matter said in a "solidarity statement". "A man-made disaster, the water crisis is an explicit and egregious form of state violence, one that impacts low-income black people hardest."
- AFP