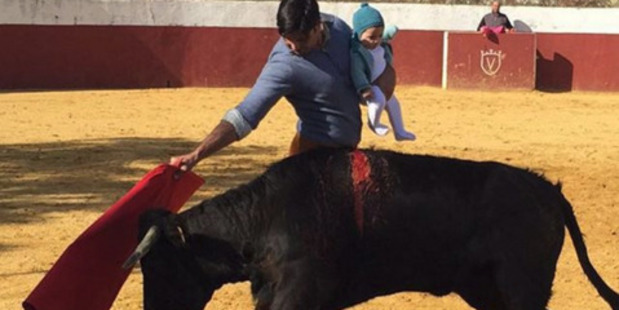 Francisco "Paquirri" Rivera says he is just doing what his father did and his father's father did, but a child protection agency has made an official complaint after the Spanish bullfighter posted a photo of him training in the ring while holding his baby daughter.
Rivera, who last year was gored in the groin by a bull but has since recovered, posted the picture on his Instagram account.
"Carmen's debut, this is the fifth generation that fights bulls in our family," he wrote. "My grandfather fought bulls like this with my father. My father fought bulls like this with me, and I've done it with my daughters Cayetana and now with Carmen."
Viva la mejor herencia , el sentimiento , la pureza , honor .
The picture sparked an immediate uproar in a country increasingly torn between animal rights activists and those who want to abolish Spain's legendary bullfights, and others who want to keep an age-old tradition alive.
"We're totally against instilling violence like that of bullfighting into children," said Laura Duarte, spokeswoman of Pacma, a party against the mistreatment of animals which backs a total ban on bullfighting.
The child protection agency in the southern region of Andalucia, where Rivera comes from, labelled it "a situation of unnecessary risk for a minor and a decision that we totally reject". It said it had taken the case to juvenile prosecutors.
Rivera tweeted: "My daughter has never been safer. I'm a bullfighter, I live for this and I dedicate 365 days a year to it. She didn't face the slightest danger for even a second."
Spain's Bullfighters' Union also leapt to his defence, saying he was up against a young bull and pointing out that bringing children to the ring was a long-held tradition among bullfighters.
The sport has been the focus of ever-increasing criticism in Spain, with several regions or cities banning corridas or annual festivals with bullfights and bull running.
According to the latest official figures, 1868 bull-related events were held in Spain in 2014. Combined, they attracted 6 million spectators in a country of 47 million residents, according to ANOET, the national organisation that arranges such events, which said the "bull business" brings in 3.5 billion ($5.86 billion) annually.
Rivera comes from a long line of bullfighters. His father was gored to death in Andalucia in 1984 and his grandfather was considered one of the greatest bullfighters of all time.