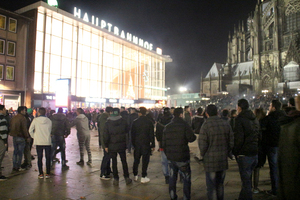 Chancellor Angela Merkel said yesterday that Germany must have a "fundamental" debate about how to integrate newcomers, as police identified 16 people suspected of a shocking rash of sexual assaults blamed on migrants.
As outrage grew over the assaults, which included two alleged rapes and several accounts of groping during New Year's Eve festivities in Cologne, Merkel said citizens were right to raise serious questions.
She pledged strong action and stressed that "we must also speak again about the cultural fundamentals of our co-existence".
Some 121 complaints have been filed so far and police say they are investigating "16 young men ... mostly of North African origin" although no one has yet been charged.
Investigators are trawling through CCTV footage and examining witness accounts to determine whether the suspects were implicated, police said.
About three-quarters of the cases involved sexual offences, while others related to theft or bodily harm.
Welcoming the fact that large numbers of alleged victims have come forward, Merkel said there were "very serious questions that go beyond Cologne" for Germany.
The attacks have shown that there is in "some quarters, contempt for women", she said.
"We need to confront that with utmost determination," Merkel said, adding that she did not believe that the cases were isolated.
Although authorities have said there are no indications that the perpetrators of the assaults were asylum seekers, critics of Merkel's open-door approach to those fleeing war have seized on the opportunity to draw a link.
The German newspaper Der Spiegel ran a report in which it said one member of the crowd told a police officer he was Syrian and needed to be treated well because Merkel had invited him to the country.
Der Spiegel said its article was based on the report written for Germany's national police by an unidentified senior official.
The official described a "chaotic and shameful" evening in which a lack of officers at the scene meant those there "reached the limits of their abilities pretty quickly", according to Der Spiegel, which obtained a copy of the report.
"Women, accompanied or not, literally ran a gauntlet through masses of heavily intoxicated men that words cannot describe," the official wrote.
According to the report, at least one officer quoted a man as saying: "I'm a Syrian. You have to treat me kindly. Mrs Merkel invited me."
AFP, Washington Post, Bloomberg