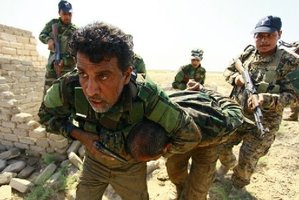 Prime Minister John Key says the Government is not planning to follow Australia and the UK in stepping up sanctions against jihadists returning home from fighting in the Middle East.
But he says New Zealand is not immune to the risks of radicalised fighters seeking re-entry to this country, and the Government is keeping an eye on the issue.
Some Western governments are introducing new measures to prevent suspected jihadists from leaving their countries to fight for the Islamic State (Isis) in Iraq and Syria, or to prevent them from returning after being radicalised.
Mr Key said this afternoon: "I haven't had discussions with either (British Prime Minister) David Cameron or (Australian Prime Minister) Tony Abbott about that matter.
"I have, as a course of my general intelligence briefings, at least some understanding of the issues that they're dealing with.
"And while we haven't made any decisions I think it's fair to say we're always cognisant of what we see happening."
Mr Cameron has given authorities power to cancel the passports of people suspected of travelling to fight in these countries.
The British Government was also looking at ways to stop British jihadists from returning to their home country after fighting abroad.
Mr Abbott has proposed more extensive measures, including a new offence of travelling to a particular area without a legitimate reason.
Mr Key said: "The public statements that I see Mr Cameron and Mr Abbott making are for good, genuine and real reasons."
Asked if New Zealand faced the same threats, he said: "I can't completely rule that out."
But he added that New Zealand's smaller population size and proximity to the Middle East meant it was less likely jihadists would originate or re-settle here.
"There are always risks. And we know that there are potentially New Zealanders who want to go into those conflicts or are there.
"I think everyone would accept that the issue is far more pronounced in other countries than in New Zealand.
"I wouldn't want to overstate things. But if a risk is faced by the United Kingdom and Australia, you would have to say there is at least on a smaller scale a potential similar risk in New Zealand."
New Zealand authorities already had power to cancel passports of people who were suspected of travelling abroad to fight for terrorist groups.
Mr Key said Government "would take the steps that are required to protect New Zealanders".
Asked about US plans for airstrikes in northern Iraq, Mr Key said New Zealand has designated Isis as a terrorist organisation and supported plans to stop its activities.
"I haven't given much thought to the situation in Syria. But the situation in Iraq is quite different. The Iraqi Government have asked the US to conduct those airstrikes."