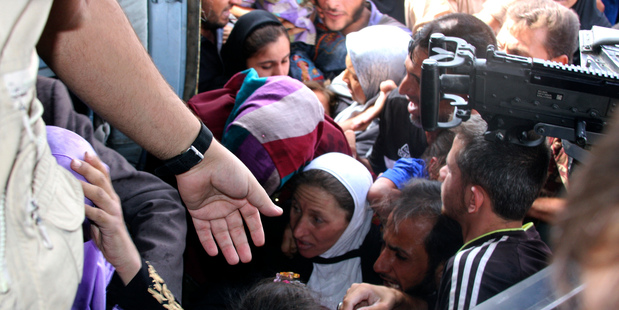 Aircraft from the United States, Australia, France and Britain have dropped food and water to the beleaguered Iraqi town of Amirli, which has been under siege by Isis (Islamic State) for nearly two months.
"At the request of the Government of Iraq, the United States military today air-dropped humanitarian aid to the town of Amirli," said Pentagon press secretary Rear Admiral John Kirby. "The United States Air Force delivered this aid alongside aircraft from Australia, France and the United Kingdom, who also dropped much-needed supplies."
The humanitarian aid was delivered in conjunction with "co-ordinated airstrikes against nearby [Isis] terrorists in order to support this humanitarian assistance operation", the US officer said. The US Central Command said the US supplies had included drinking water and 7000 pre-packaged meals. The three airstrikes, Centcom said, destroyed "three Isis Humvees, one armed vehicle, one checkpoint and one tank near Amirli". The US military also launched fresh attacks on Isis forces near Iraq's Mosul dam, using fighter aircraft and drones.
Amirli had been cut off by jihadists since June, with its residents facing shortages of food and water. Had the town been overrun by Isis, its occupants were likely to face death because of their Shia faith, which jihadists consider heresy. Iraqi Lieutenant General Abdulamir al-Zaidi said the operation to free Amirli from the jihadists had been launched by troops south of the town, with support from Iraqi aircraft, as Shia militias attacked from the north.
An Australian military aircraft will soon fly guns and ammunition to Erbil to help Kurds fight Isis Prime Minister Tony Abbott said.
Abbott said his Government would join others in delivering rocket-propelled grenades, mortars and assault rifle ammunition at the request of the US and Iraqi governments. Australia will use air force C-130 Hercules and C-17 Globemaster planes based at al-Minhad Air Base outside Dubai. Australia has said it has F/A-18 Hornets standing ready to join US airstrikes in Iraq if requested.
- AFP, AP, Telegraph group Ltd