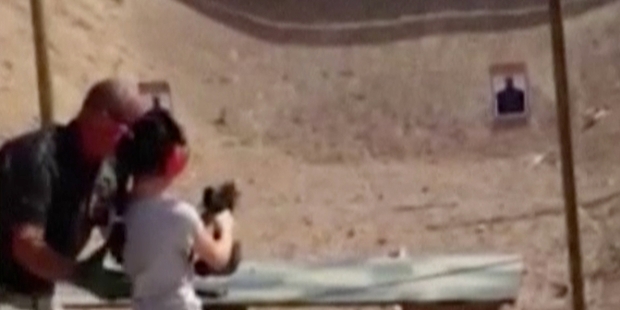 The coroner in Las Vegas says the firearms instructor who died in an Uzi shooting by a 9-year-old girl suffered a single gunshot to the head.
Clark County Coroner Mike Murphy told The Associated Press that it will take several weeks for blood-toxicology test results to be complete, and authorities were still investigating the shooting.
The coroner said that an official cause of death was pending for 39-year-old Charles Joseph Vacca Jr. of Lake Havasu City, Arizona.
The shooting has intensified a debate over youngsters and guns.
Instructor and army veteran Charles Vacca, 39, was standing next to the girl at the Last Stop range in Arizona, south of Las Vegas, when she squeezed the trigger.
The recoil wrenched the automatic Uzi upward, and Vacca was shot in the head. Prosecutors say they will not file charges. The identities of the girl and her family have not been released.
Many American youths grow up around guns. But giving a child a submachine gun is a different story.
Gerry Hills, founder of Arizonans for Gun Safety, said it was reckless to let the girl handle such a powerful weapon and tighter regulations regarding children and guns were needed. "We have better safety standards for who gets to ride a roller-coaster ..."
Sam Scarmardo, who operates the outdoor range, said the parents had signed waivers saying they understood the rules and were standing nearby, video-recording their daughter. Investigators released 27 seconds of the footage showing the girl from behind. Scarmardo said he did not know what went wrong.
Jace Zack, chief deputy for the Mohave County Attorney's Office, said the instructor was probably the most criminally negligent person involved for having allowed the child to hold the gun without enough training.
"The parents ... trusted the instructor to know what he was doing, and the girl could not possibly have comprehended the potential dangers involved."
- AP