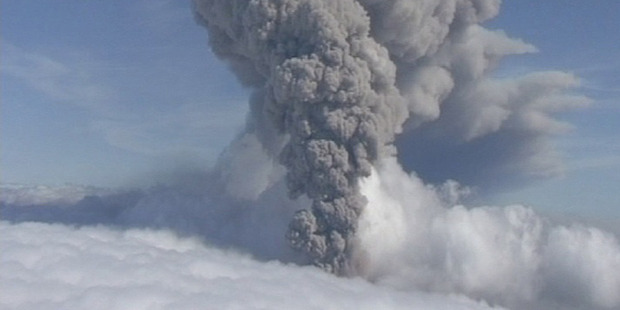 Iceland has raised its alert for the nation's largest volcanic system to red, banning all air traffic in the area, as experts deemed the risk of an eruption to be imminent.
A major explosion at the Bardarbunga volcano could signal a replay of the global travel chaos triggered when another Icelandic peak blew four years ago, creating a massive ash cloud across Europe.
Early yesterday the Icelandic met office said it believed there was a small subglacial eruption, but later it confirmed there was no evidence of volcanic activity.
"The aviation colour code for the Bardarbunga volcano remains red as an imminent eruption cannot be excluded," the met office said.
Although airspace was closed in the affected area, all airports in Iceland were open, authorities said.
The assessment came after three hours of aerial surveillance.
"It's clear that there are no signs of melting that follows an eruption under a glacier, so the magma has probably not reached the surface yet," geophysicist Magnus Tumi Gudmundsson told public broadcaster Ruv.
Husavi police chief Svavar Palsson said 300 people, mostly foreign tourists, had been evacuated from a canyon tourist area north of the Bardarbunga volcano, which lies in central Iceland.
Icelandic rumblings
Bardarbunga
: A week ago Bardarbunga kicked into seismic action with its biggest earthquake since 1996 of 4.5 on the Richter scale. It is Iceland's second-highest peak at more than 2000m. Vatnajokull, the country's largest glacier, lies above Bardarbunga
Eyjafjallajokull: The eruption of Eyjafjallajokull (above) in April 2010 caused travel mayhem, stranding more than eight million travellers in the biggest airspace shutdown since World War II. In 2010, the volcano shot a massive plume of debris up to 9km into the sky, blowing ash across to mainland Europe.
Grimsvotn: In 2011, Iceland's most active subglacial volcano Grimsvotn erupted, forcing Iceland to temporarily shut its airspace.AFP

- AFP