Office buildings latest to be hit amid renewed cross-border exchanges.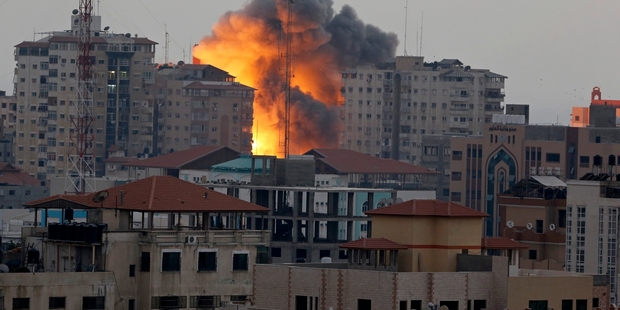 Gaza police say Israeli airstrikes have levelled a seven-floor office building and severely damaged a two-storey commercial building with dozens of shops in the southern town of Rafah.
An office of the Hamas-run Interior Ministry was located in the seven-storey Zourab building. Police say seven people were wounded by the bombing of the commercial centre. There were no reports of casualties from the other strike.
The strikes came hours after Israel toppled a 12-storey apartment tower in Gaza City.
The Israeli military says five rockets were fired from Syria at the Israeli-annexed Golan Heights.
Hamas kept up heavy rocket fire that sent more Israelis fleeing border areas close to Gaza.
The violence signalled that a speedy resumption of truce talks is unlikely, despite appeals by mediator Egypt.
Gaps between Israel and Hamas on a border deal for blockaded Gaza remain vast.
In the Gaza City strike, a huge fireball followed by a black column of smoke rose into the sky after two Israeli missiles toppled the Zafer Tower, one in a group of high-rises in the Tel al-Hawa area.
The Israeli military said the missiles targeted a Hamas operations room in the building, but did not explain why the entire tower with 44 apartments was brought down.
Gaza police said a warning missile had been fired five minutes earlier and that some residents were able to rush out of the building in time. Still, 22 people were wounded, including 11 children and five women, according to hospital officials.
Maher Abu Sedo, an area resident, said the two strikes came within seconds of each other. "This is crazy ... In less than a minute, 44 families have become displaced ... They lost everything, their house, their money, their memories and their security."
Some 100,000 Gazans have become homeless, with more than 17,000 homes destroyed or damaged beyond repair, according to UN figures. However, the strike marked the first time an entire apartment high-rise was destroyed.
Elsewhere in Gaza, an airstrike on a car killed a man and wounded 11 people, said Ayman Sahabani, head of the emergency room at Gaza City's Shifa Hospital. The Popular Front for the Liberation of Palestine later identified the man killed as a field commander. Gaza militants fired over 100 rockets and mortar shells at Israel yesterday. The barrage came a day after a mortar shell from Gaza hit a farming village in southern Israel, killing a 4-year-old boy.
Israeli media said large numbers of residents of southern Israeli communities near the Gaza border were leaving their homes and heading for safer areas following the death of the boy in Kibbutz Nahal Oz.
"I say whoever can leave, whose presence is not crucial should leave," said Minister of Public Security Yitzhak Ahronovich during a visit to the south.
Defence Minister Moshe Yaalon called on southern residents to be ready for a prolonged campaign against Hamas militants.
Since the fighting erupted on July 8, Israel has launched some 5000 airstrikes at Gaza, while Gaza militants have fired close to 4000 rockets and mortars, according to the Israeli military.
More than 2100 Palestinians, including close to 500 children, have been killed, according to Palestinian health officials and UN figures. Israel has lost 64 soldiers and four civilians.
- AP