Only food, says Kremlin, but West fears increase in conflict in Ukraine.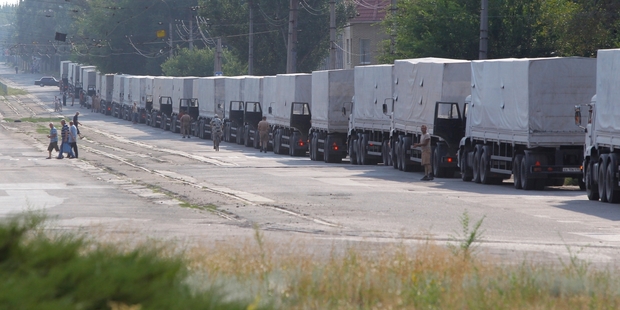 German Chancellor Angela Merkel is due to arrive in Ukraine today for talks, a day after calling Russia's decision to send an unauthorised aid convoy there a dangerous escalation.
More than 260 Russian trucks entered eastern Ukraine on Friday without permission from Ukraine's government.
Some of the trucks yesterday began crossing back into Russia and reached the besieged rebel-held city of Luhansk.
Kiev and Western officials fear the convoy could be part of a general military intervention by Russia.
But Kremlin officials say it is only carrying generators, food and drink. The trucks had already been waiting at the border for a week. The Russians said they could not wait any longer because of the worsening humanitarian situation in eastern Ukraine, which is held by pro-Russian separatists.
Four months of fighting in the region have left more than 2000 people dead and caused more than 330,000 people to flee their homes.
The West rebuked Russia for sending the aid convoy in a move Kiev decried as an invasion.
The European Union and the United States demanded that Russia immediately withdraw the convoy, amid fears the cargo could shore up pro-Moscow rebels fighting Kiev's forces. Washington warned Russia it could face further sanctions, and the UN Security Council expressed concern the move could lead to an escalation in the four-month conflict.
Russian President Vladimir Putin said further delay would have been unacceptable as he justified the decision in a phone conversation with Merkel.
Merkel and US President Barack Obama warned that Moscow's military presence and shelling were triggering a dangerous escalation of the conflict, and they demanded it remove the convoy.
The UN Security Council met for urgent consultations, at Lithuania's request.
- AP, AAP