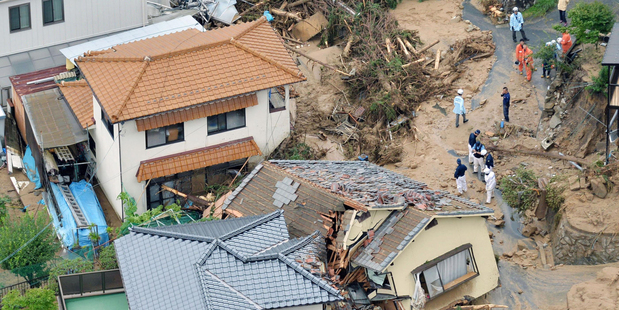 Huge landslides that engulfed homes in western Japan have killed at least 27 people and left another 10 missing.
Dozens of houses were buried when a wall of mud thundered down a hillside in Hiroshima, leaving rescuers to pick through the devastation for any signs of life.
Read more: Deadly landslides sweep through Hiroshima homes
"According to the National Police Agency, the death toll has risen to 27 and 10 others are still unaccounted for," an official of the disaster management office, a government body, said last night. The number of dead had risen rapidly from an initial toll of four. There are "several spots where people are supposed to be buried alive, and we still don't know how many people are missing", an emergency services spokesman said.
Among the dead was a 53-year-old rescuer, who was killed by a secondary landslide after he had pulled five people to safety.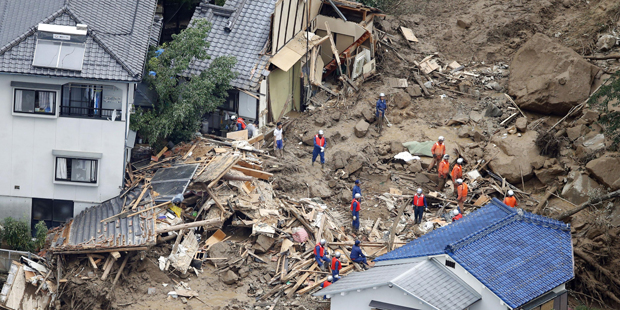 Rescue workers search for survivors after a massive landslide swept through residential areas in Hiroshima. Photo / AP
Aerial footage showed several houses buried by sludge, their wooden frames splintered by the weight of the mud. Torrents of brown water raced off mountains behind the homes and through the wrecked buildings, hampering rescuers' efforts as they searched for anyone still trapped. Emergency workers were seen climbing up to the second floor and roofs of half-collapsed houses -- some of which were floating -- in a bid to reach any survivors.
Pictures showed there had been at least five different landslides, some having uprooted trees and carried rocks down the hillside.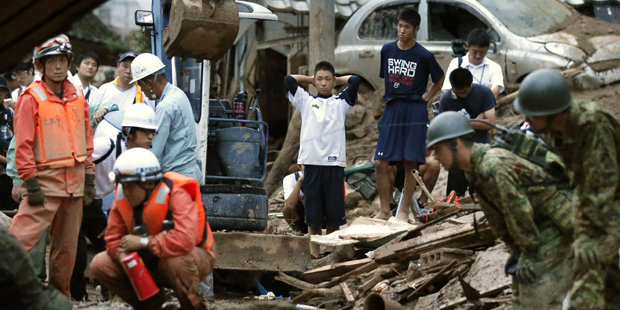 High school boys watch rescue workers search for their missing classmate after a massive landslide swept through residential areas in Hiroshima. Photo / AP
One man, gesturing to the mud-covered remains of a house, told NHK: "My house is over there, flattened."
Another man told reporters he had seen everything he owned swept away. "We could hear the earth rumbling and all of a sudden, things roared past us."
A woman told of how she had escaped death because of where she had been at the time the disaster struck. "I was able to survive as I stayed in the middle of the house. Both sides were destroyed."
Japanese troops were deployed in response to a request from the local government. Japan's weather agency warned more heavy rain is on the way to the area, raising the risk of further landslides.
- AFP