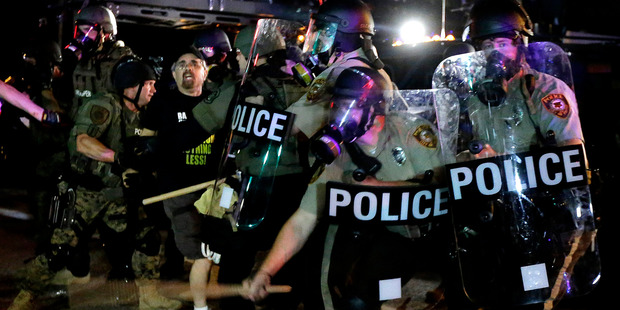 US police have again fired tear gas to break up a crowd of demonstrators in the Missouri town of Ferguson, where a black teenager was shot and killed by a white police officer nine days ago.
Police in riot gear, supported by an armoured SWAT vehicle and a helicopter overhead, repeatedly ordered the crowd to disperse.
They then let lose with a volley of tear gas just after 11pm (4pm NZT), sending the crowd - smaller than the one that clashed with police on Sunday - scurrying.
The standoff occurred near the residential street where 18-year-old Michael Brown was fatally shot by a local police officer in this St Louis suburb.
Pathologists retained by Brown's family said that the student had been shot at least six times, including twice in the head.
His death has triggered daily protests and nightly clashes with law enforcement officials, and prompted the deployment earlier on Monday of National Guard reservists.
Obama urges limited use of National Guard
In Washington, President Obama said in a news conference that Attorney General Eric Holder would arrive Wednesday in Ferguson to meet with FBI and other officials carrying out an independent federal investigation into Brown's death.
The August 9 shooting touched off rancorous protests in the St. Louis suburb where police have used riot gear and tear gas.
Govenor Jay Nixon ordered the National Guard to Ferguson to restore order, while lifting a midnight-to-5 am curfew that had been in place for two days.
Obama said he told Nixon he wanted to ensure the use of National Guard reservists to help calm tensions must be limited in scope, and said he would be monitoring that operation in the coming days to see whether the guard's involvement was helping or hurting.
Guard units with armored vehicles were waiting at a staging area about a half-mile from the portion of West Florissant Avenue that has been the scene of the largest protests.
Details of shooting unknown
Police have said little about the encounter between Brown and the white officer, except to say that it involved a scuffle in which the officer was injured and Brown was shot.
Witnesses say the teenager had his hands in the air as the officer fired multiple rounds.
Forensic pathologist Shawn Parcells, who assisted former New York City chief medical examiner Dr Michael Baden during the independent autopsy, said a graze wound on Brown's right arm could have occurred in several ways.
The teen may have had his back to the shooter, or he could have been facing the shooter with his hands above his head or in a defensive position in front of his face.
"But we don't know," Parcells said.
Baden said one of the bullets entered the top of Brown's skull, suggesting his head was bent forward when he suffered the fatal injury.
The pathologists said Brown, who also was shot four times in the right arm, could have survived the other bullet wounds.
Suzanne McCune, the administrator of the St Louis County medical examiner's office, said the county's autopsy found Brown was hit in the head and chest but she would not confirm whether he was hit elsewhere on his body. Full findings of the county's autopsy aren't expected for about two weeks.
Family attorney Benjamin Crump said the family wanted the additional autopsy because they feared results of the county's examination could be biased.
Crump declined to release copies of the report to the media.
Baden said there was no gun-power residue on Brown's body, indicating he was not shot at close range.
However, Baden said he did not have access to Brown's clothing, and that it was possible the residue could be on the clothing.
A grand jury could begin hearing evidence Wednesday to determine whether the officer, Darren Wilson, should be charged in Brown's death.
The US Justice Department already had deepened its civil rights investigation into the shooting.
A day earlier, officials said 40 FBI agents were going door-to-door gathering information in the neighborhood where Brown was shot.Holder has ordered a federal medical examiner to perform another autopsy.
- AFP, AP