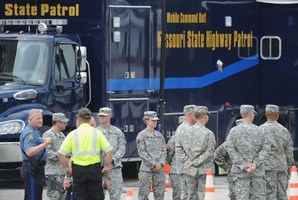 US National Guard troops have been deployed after unrest in a Missouri town where a white police officer shot dead an unarmed black teenager, as President Barack Obama called for calm.

A clearly uncomfortable Obama said there was no excuse for local police to employ "excessive force" and urged the state to make only limited use of the guards, while still condemning violent protest.
"Part of the ongoing challenge of perfecting our union has involved dealing with communities that feel left behind," said Obama, back in Washington on a short pause in his annual summer break.
"As Americans, we've got to the use this moment to seek out our shared humanity that's been laid bare by this moment," he added, calling for the country to react as "one united American family".
Obama said the United States has taken strides in fighting centuries of the racial prejudice that many believe lay behind Saturday's police shooting, "but we have not made enough progress".
Earlier, State Governor Jay Nixon lifted an overnight curfew as the soldiers arrived, but tempers were still running high amid ongoing controversy over the death of 18-year-old Michael Brown.
Brown was shot dead in broad daylight on a residential street on Saturday by Darren Wilson, a 28-year-old white police officer.
Store surveillance footage released by local police a few days later appears to show Brown shoving an employee after snatching a box of cigars around half-an-hour before he was shot.
But it is not yet clear what caused his deadly encounter with Wilson - police sources say there was a scuffle - and some witnesses have alleged that he was not resisting when he was shot.
Beyond the shooting itself, many here were stunned by the police response to protests, deploying heavily-armed officers in army-style uniforms and military surplus armourer personnel carriers.
A forensic pathologist retained by the victim's family revealed that the student had been shot six times - twice in the head.
Local officials have not released the results of their own autopsy.
The dispute fuelled resentment in Ferguson, a suburb of St Louis which has a majority African-American population but a mainly white police force - and now a detachment of National Guard soldiers.
"I'll be watching over the next several days to assess whether in fact, it's helping rather than hindering progress in Ferguson," Obama told reporters, referring to the National Guard deployment.
Obama said Attorney General Eric Holder would travel to Ferguson on Wednesday to meet with FBI agents and Justice Department officials conducting a federal civil rights probe into the shooting.
"During the day today, more than 40 FBI agents continued their canvassing of the neighbourhood where Michael Brown was shot," Holder said, in a separate announcement from his officer.
Obama also warned of a "gulf of mistrust" between residents and police in many cities and towns across America, particularly in those where racial minorities feel excluded from opportunity
"To a community in Ferguson that is rightly hurting and looking for answers, let me call once again for us to seek some understanding rather than simply holler at each other," the president said.
"In too many communities, too many young men of colour are left behind and seen only as objects of fear," the president added.
Overnight, before the order to deploy the Guard, rioters looted stores and threw Molotov cocktails.
- AFP