Tear gas and petrol bombs as protests continue after peaceful march.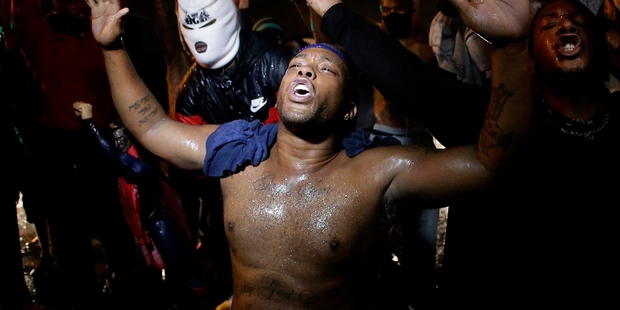 An unarmed black teenager killed by a white officer in Missouri was shot at least six times, including twice in the head, a preliminary private autopsy has found as violence raged in Ferguson.

United States riot police have hurled tear gas and marched on rioters in the St Louis suburb, racked by race riots since police shot dead Michael Brown, 18.
Missouri Governor Jay Nixon signed an executive order to deploy the National Guard to Ferguson to "help restore peace and order".
Police tried to disperse the mob of mostly young people about three hours before the midnight local time curfew came into effect yesterday.
The man in charge of security, Missouri State Highway Patrol Captain Ron Johnson, said: "I had no alternative but to elevate our level of response".
He said shots had been fired at police, Molotov cocktails had been thrown and protesters created makeshift barricades to stop police from going into certain areas. Seven to eight people had been arrested.
Some of the youths carried signs protesting police brutality, many had their hands up in surrender and others threw the tear gas canisters back at police.
Images posted on Twitter showed vandals smashing the windows of a McDonald's restaurant. Johnson said McDonald's employees had to lock themselves in a storage room.
The New York Times reported that an autopsy by Dr Michael Baden, a former New York City chief medical examiner, found that one of the bullets entered the top of Brown's skull, suggesting that his head was bent forward when he suffered a fatal injury.
Baden said it was likely the last of bullets to hit Brown on August 10.
Police have said little about the encounter between Brown and the officer, except to say that it involved a scuffle in which the officer was injured and Brown was shot.
Witnesses say the teenager had his hands in the air as the officer fired multiple rounds.
Baden told the New York Times that Brown was also shot four times in the right arm and that all the bullets were fired into his front. The newspaper said the bullets did not appear to have come from very close range because there was no gunpowder on his body.
That determination could change if there were residue on Brown's clothing, which Baden did not examine, the newspaper said.
Some of the bullets entered and exited Brown several times, the newspaper said, including one that caused at least five wounds.
It said one shattered his right eye, went through his face, left through his jaw and re-entered his collarbone. The last two shots in the head would have stopped him in his tracks and were likely the last fired, the New York Times said.
Baden told the newspaper Brown would not have survived even if he had been taken to a hospital immediately.
Attorney-General Eric Holder yesterday ordered a federal medical examiner to perform another autopsy on Brown.
Watch: Protests heat up in Ferguson before curfew
The "extraordinary circumstances" surrounding the death and a request by Brown's family prompted the order, Justice spokesman Brian Fallon said.
Last night in the latest violence, police moved in after people in the crowd threw petrol bombs at officers, KMOV-TV reported. There were also reports of gunshots fired in the crowd.
"Once there was a shooting, police had to come in. That being said, I'm troubled by tweets I'm reading saying children were gassed. #Ferguson," wrote Antonio French, a local politician who has been trying to calm the crowds.
The protest, held near the site where Brown was killed, followed a much larger and peaceful march outside the Greater Grace Church in Ferguson earlier in the day honouring Brown.
Young people who had gathered outside the church held their hands in the air, paying homage to what some witnesses said was Brown's last gesture before being shot.
"I'm astonished at the reversal of the mood," civil rights activist Jesse Jackson told CNN, saying that the mood earlier in the day among Ferguson residents had been more constructive.
"We were marching peacefully towards the police station just wanting to bend down on our knees with our hands up and say to the police, 'our hands are up, don't shoot'. All of a sudden they turned around and started shooting," Lisha Williams, who was in the march, told CNN.
The Justice Department has deepened its civil rights investigation into the shooting. Officials said a day earlier that 40 FBI agents were going door-to-door gathering information in Ferguson.
The first night of a state-imposed curfew in Ferguson ended with tear gas and seven arrests after police dressed in riot gear used armoured vehicles to disperse protesters.
The captain
The trooper in charge of tamping racial tensions in the riot-hit US town of Ferguson says he will stay "as long as it takes", after one person was shot and seven arrested in fresh violence.
Captain Ron Johnson, 51, of the Missouri Highway Patrol, brought in last Friday by Governor Jay Nixon to take over security, also apologised for a white police officer's shooting of Michael Brown, 18. "I want to start off by talking to Mike Brown's family.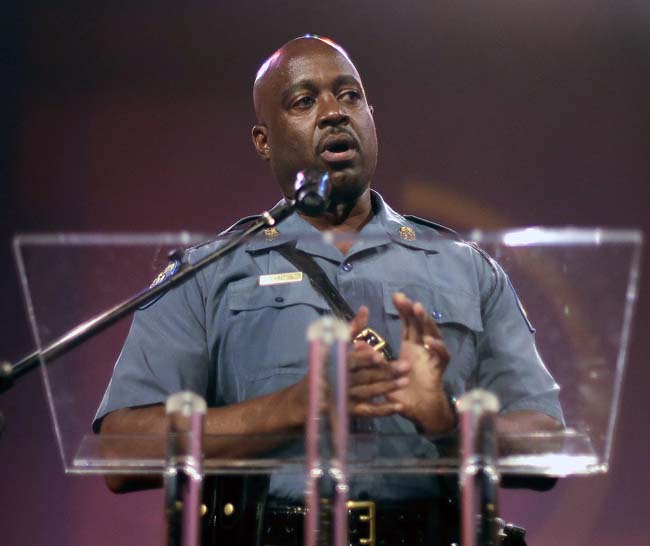 Captain Ron Johnson. Photo / AP
I want you to know my heart goes out to you, and I say that I'm sorry," Johnson said to applause from more than 1300 people at a church in Ferguson.
"I will be here as long as it takes." Johnson, who grew up in St Louis, acknowledged the personal toll. "The last 24 hours have been tough for me," he said. "This is my neighbourhood. You are my family, you are my friends, and I am you. And I will stand and protect you." Johnson stressed why resolving the unrest in Ferguson was important to him and other black families.
"When this is over, I'm going to go in my son's room, my black son, who wears his pants sagging, wears his hat cocked to the side, has tattoos on his arms, but that's my baby." Johnson reportedly "won early plaudits for his hands-off strategy, and his easy manner with people who had taken to the streets persuaded many that he felt their pain".
But rioting meant that from Sunday "he had to enforce an order for them to stay in their homes". At one point Johnson adroitly defused a tense gathering of youths. He shook hands, listened, engaged, flattered. The youths drifted away, peaceful but not placated. "He may be ice, may be cool, but he's a cop," said their leader. "It's the company he keeps."
The protesters
Protesters who have for days lined a busy suburban St Louis street not far from the place where a white police officer fatally shot an unarmed black teenager have walked from nearby apartments, driven from neighbouring communities and flown in from states hundreds of kilometres away.
Some are young parents carrying infants. Others, university students, retirees or professionals taking a break from their jobs.
They have chanted, marched, shouted, danced on vehicles and - though most have remained peaceful - also looted and vandalised stores during late-night clashes with armoured police.
"Being black in America is basically being born with a target," said Keyon Watkins, a 26-year-old computer science college graduate who joined in a protest on a late weekend night. Witnesses say Michael Brown had his hands in the air - a sign of surrender - as he was shot.
So the protesters chant "Hands up! Don't shoot!" while raising their own arms. They write the words on posters, and print them on T-shirts.
Michael Johnson, 42, lifted up his shirt to show the scars on his torso that he said he received when he was shot by a St Louis police officer at age 18. Because of the injuries, he had to abandon his dream of joining the Marines.
"That one night cost me my whole future," said Johnson, standing in front of a looted and burned-out store. "If I got to die tonight, I don't mind ... I'm dying for a cause." LaVon Stennis-Williams flew in from Omaha, Nebraska, to join the protest with her daughter who is attending law school at St Louis University.
"Maybe this will be a catalyst of change in this country to get people to become more tolerant and more respectful of their civil rights."
The suburb
The spectacle of American police acting like an occupying army in the St Louis suburb of Ferguson has shocked and baffled outsiders, but there was an explanation, of sorts, in a sleepy, tree-lined street five minutes' walk from the mayhem.
Vickie Place is a row of single family homes built in the 1950s. They are modest but spacious, with gardens front and back, plenty of squirrels and a constant buzz from cicadas.
The family of Michael Brown, the unarmed 18-year-old African American gunned down by police, live in a cream-coloured house with a peeling door, a broken bell and a tattered chair on the porch.
The teargas and screams from West Florissant Ave, where mainly white police used military might to cow black protesters, did not reach Vickie Place, only a few blocks away.
But a simple fact about the street, and those around it, sheds light on the police mindset. One by one, carload by carload, year by year, in an inexorable, remorseless exodus, white faces, faces like theirs, have vanished.
The legacy, for the white officers supposed to police it, appears to be a forbidding, alien, territory. A land of the other. It might as well be Fallujah.
"The police don't like coming here," said Don Williams, 52, who moved to Vickie Place with his family in 2001. "It was majority white then. Now, almost all black."
The absence of street lighting made everything pitch dark after sunset, intimidating patrols, he said. "We have break-ins but the police barely investigate. They're not worth nothing."
Opposite the Brown home is one of the street's last white residents, Doris McCann, who has lived here for 55 of her 86 years.
"It's a changed neighbourhood. Everyone that's white moved out," she lamented.
The use of armoured vehicles and sniper nests in the height of a Missouri summer has exposed the extent and consequences of segregation in America's heartland.
The Ferguson city and St Louis county police departments showed hostility, incomprehension and fear as they confronted protesters, heedless that their militarised response had stoked anger and radicalism over Brown's death.
Only three of Ferguson's 53 officers are black and only one of six city councillors is black - in a city where two-thirds of the population is black.
The separation of races should be a fading anachronism - a black man occupies the White House and black artists suffuse mainstream culture. But half a century after the civil rights movement triumphed, the dream of an integrated multiracial society in this sprawling city by the Mississippi is largely dead.
"It was gradual but they all packed up," said McCann of her old neighbours.
The new ones were friendly and respectful, but - "we don't know each other, it's not neighbourly the way it used to be."
A recently-arrived reporter for a local broadcaster said she soon found that Delmar Boulevard formed a demarcation line known to all.
North of it, 98 per cent of the population is black (median income, US$18,000); to the south, 73 per cent white (median income, US$50,000).
St Louis is far from the worst case. A study last year ranked parts of Buffalo, New York, Cleveland, Detroit and Milwaukee even more segregated.
- AFP, AP, Observer