Police say shot African American teenager was burglary suspect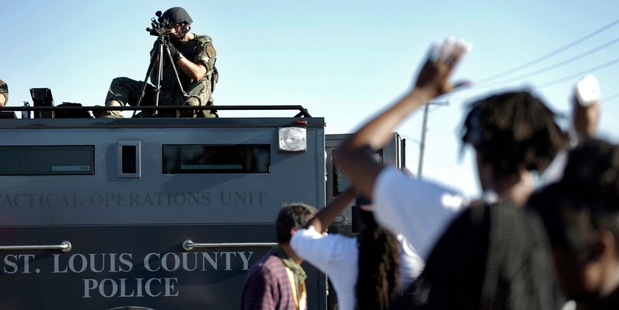 The unarmed black teenager whose shooting by a white police officer unleashed riots in a Missouri town was a suspect in a robbery just minutes before he was killed, police say.
The allegation reignited fresh anger in the St Louis suburb of Ferguson, with the 18-year-old's family accusing police of attempting to demean his character.
FBI agents, working with lawyers from the Justice Department and US Attorney's Office, were interviewing witnesses at the time of the shooting, officials said. Incident reports linked Michael Brown to the theft of a US$49 ($57) box of cigars, shortly before he was shot by police on August 9.
Brown's death stirred tensions and renewed a national debate about relations between law enforcement and African Americans.
Police released surveillance footage showing a tall black man - in the same outfit Brown was wearing - shoving a store clerk. But the officer who stopped Brown did not know this.
Ferguson police chief Thomas Jackson identified the officer who shot Brown as Darren Wilson, 28, a white four-year veteran with no record of ill discipline.
The disclosures followed Ferguson's first night of calm this week, after state troopers took over from local police. Protests continued peacefully yesterday.
Through their lawyers, Brown's family said they were "beyond outraged". Their son had no criminal record and was about to start vocational college. "There is nothing based on the facts that have been placed before us that can justify the execution-style murder of their child by this police officer as he held his hands up," they added.
- AAP