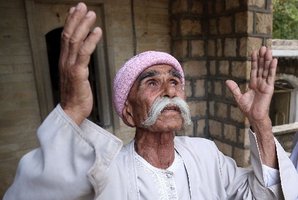 A small party of US troops has landed on Mount Sinjar in northern Iraq for the first time to assess the situation of thousands of civilian refugees besieged by Islamist militants, the Pentagon says.
A US military official, speaking on condition of anonymity, said the special forces soldiers had returned safely to base.
"They had contacts with the refugees. They went back to Erbil," he said.
Read more:
* Iraq's Yazidi refugees exhausted and starving
* More US special operations troops arrive in Iraq
* Britain to help Kurdish forces in Iraq
* US had no choice but to act against Islamic State - Editorial
The US has a consulate and other facilities in Erbil, the capital of Iraq's autonomous Kurdish region, and yesterday deployed around 130 troops on an assessment mission.
Militants from the Islamic State of Iraq and the Levant or ISIL (also known as ISIS and Islamic State), a jihadist group that controls a large swathe of northern Iraq and eastern Syria, has attacked the region's Yazidi religious minority and threatened to march on the city.
Last week, President Barack Obama authorised air strikes to protect Yazidi refugees and US personnel in Erbil, but he has insisted that US "combat troops" will not return to war in the unstable nation.
Nevertheless, Washington has boosted its military advisers on the ground in Iraq and the mission to Sinjar briefly put US boots on the ground on an exposed mountain surrounded by hostile forces.
Iraqi helicopters and Kurdish troops have been trying to come to the aid of the besieged Yazidis, and Washington and its allies have been studying ways to airlift them off Sinjar or open a humanitarian corridor.
Also yesterday, a US drone launched a missile to destroy an ISIL armed truck to the west of the mountain, the latest in a series of air strikes by drones and fighter jets since Friday.
President Barack Obama is considering a range of military options, including airlifts and creating safe passages, for rescuing the Yazidi refugees, and is expected to make a decision within days, the White House says.
The White House insisted that the mission on Sinjar Mountain would be strictly a humanitarian rescue and would not constitute a return to combat 2½ years after the last US troops withdrew from Iraq.
Watch: US Airstrike targets Militants in Iraq

"We don't believe that involves US troops re-entering a combat role in Iraq," said Ben Rhodes, Obama's deputy national security adviser. "It involves frankly a very difficult logistical challenge of moving folks who are in danger on that mountain into a safer position."
The US has been delivering food and water to the Yazidi refugees for several days. But Rhodes said it was unsustainable to let thousands of people remain on the mountain.
"There needs to be a lasting solution that gets that population to a safe space where they can receive more permanent assistance," he told reporters traveling with the president during his vacation on the Massachusetts island of Martha's Vineyard.
Rhodes said that given the urgency of the situation, Obama was expected to receive final recommendations quickly and make a decision within days.
Thousands of Iraqi religious minorities sought refuge on Sinjar Mountain after militants from the Islamic State group swept through their village in northern Iraq. In addition to the humanitarian aid drops, the US has conducted airstrikes against Islamic State targets, both to protect American personnel in the region and stop the militants from moving on the civilians again.
Obama has ruled out sending combat troops back into Iraq, where nearly 4500 Americans were killed during the eight year war that ended in 2011.
Rhodes suggested the US would undertake a rescue mission with help from allies, including Kurdish forces that are receiving arms from the US, and the British.
Watch: Iraqi Airstrikes Target ISIS Outposts

British Prime Minister David Cameron confirmed today that his country stood ready to assist with that effort.
"We need a plan to get these people off that mountain and get them to a place of safety," he said. "Detailed plans are now being put in place and are underway and that Britain will play a role in delivering them."
The British military has already joined the US in delivering supplies to the mountain in recent days. Rhodes noted that there have also been offers of humanitarian assistance from France, Canada and Australia.
The White House has not said specifically how many people they believe to be on the mountain, though estimates range in the tens of thousands. Rhodes said several thousand have escaped, but the US is seeking a more firm estimate from the assessment team now on the ground.
The Pentagon said the assessment team was transported to Irbil, capital of the largely autonomous Iraqi Kurdish region, by a small number of V-22 Osprey aircraft from an undisclosed location in the Middle East.
The assessment team joins 90 US military advisers already in Baghdad and 160 in a pair of operations centres - one in Irbil and one in Baghdad, the central government's capital - working with Iraqi security forces.
They were in addition to about 455 US security forces and 100 military personnel working in the Office of Security Cooperation in the US Embassy in Baghdad.
- AFP / AP