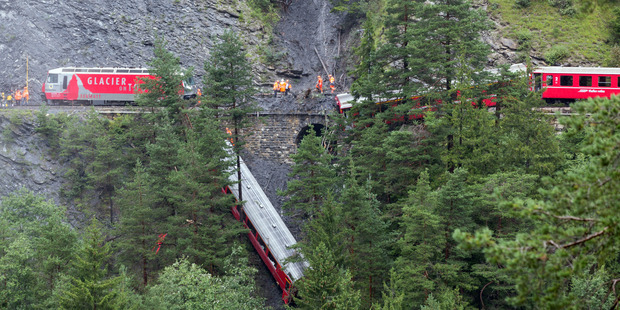 A landslide has derailed a passenger train in the Swiss mountains sending one carriage plunging into a ravine but it appears no one was killed.
Photos in Swiss media showed another carriage hanging precariously over the edge of the ravine in the heavily forested region of mountainous eastern Switzerland on Wednesday.
Terrified passengers described crowding into the rear of one of the carriages in a bid to prevent it from tipping over the edge.
"The train made an emergency stop in the middle of nowhere," passenger Stevens Bockor was quoted as saying by news website 20Minuten.
"We all rushed to the back of the carriage to put all of our weight there, so that it didn't tip into the abyss," he said.
The eight-carriage regional train was travelling between the upscale mountain resort of St.
Moritz and the regional capital of Chur when it derailed around 12.45 pm local time.
Local police described the accident as "serious" but there were no reports of deaths.
"At least three carriages were derailed. Several people were injured. The rescue and evacuation operation is in progress," police said in a statement.
"There were around 200 people on the train. Paramedics are treating passengers who are in shock," it said.
Four helicopters were rushed to the scene -- a heavily forested hillside with little road access -- to help evacuate the injured.
Swiss broadcaster RTS said scores of uninjured passengers made their way down the line to the local town of Tiefencastel on foot.
- AFP