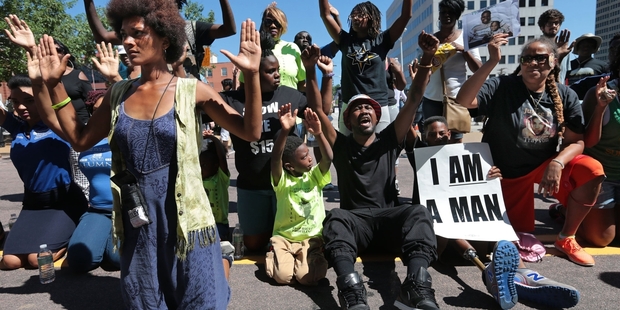 The police chief in a Missouri city where a police officer fatally shot an unarmed black teenager said he's holding off on publicly identifying the officer because of death threats.
Civil rights leader Al Sharpton, standing with the parents of 18-year-old Michael Brown, criticised the decision, saying the secrecy is fuelling mistrust of the police in Ferguson, a predominantly black city of about 21,000 residents where violent protests broke out following the shooting.
Investigators have released few details, saying only that a scuffle unfolded after the officer asked Brown and another teenager to get out of the street. At some point, the officer's weapon fired inside a patrol car, police said. Witnesses have said Brown had his hands raised when the officer approached with his weapon and repeatedly fired.
President Barack Obama, who is on holiday on the Massachusetts island of Martha's Vineyard, said while the case has prompted "strong passions," people should remember Brown through "reflection and understanding".
He called on people to comfort each other "in a way that heals, not in a way that wounds".
Police said death threats prompted them to withhold the name of the officer, who was placed on administrative leave after the shooting.
"The local authorities have put themselves in a position - hiding names and not being transparent - where people will not trust anything but an objective investigation," Sharpton, standing with Brown's mother and father, said.
But he also echoed pleas by Brown's parents and the NAACP civil rights group for peaceful protests in Ferguson, where the case has stoked racial tension, protests and looting.
"I need all of us to come together and do this right," said Michael Brown snr, with Sharpton standing at his side. "No violence."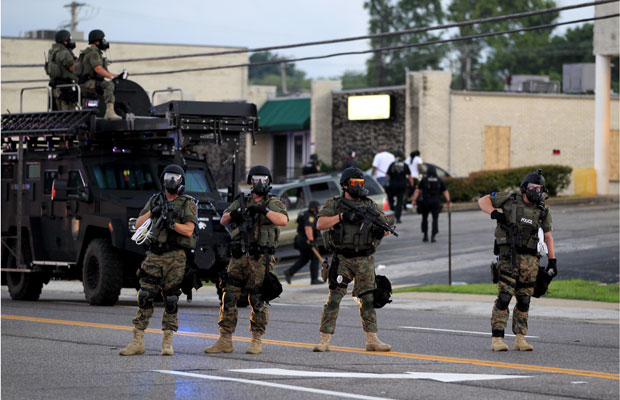 Police wearing heavy riot gear used tear gas and rubber bullets to disperse crowds. Pictures/ AP
Some civil rights leaders have drawn comparisons between Brown's death and that of 17-year-old Trayvon Martin, who was fatally shot by a Florida neighbourhood watch volunteer. The case has provoked a broad discussion on social media sites about the death of young black men in racially-tinged shootings. On Twitter, a campaign using the hashtag #IfTheyGunnedMeDown prompted many black users to post photos of themselves and ask how they might be portrayed in news reports if they became shooting victims. The combat-style gear some - though not all - riot police wore in Ferguson on Tuesday has attracted attention on social media. Writing in the Atlantic, Conor Friedersdorf said some were "dressed and outfitted such that they could as easily be storming into an Isis safe house in Iraq". Referring to a New York Times photograph he said: "they are on the streets of an American city, clad in combat gear, squaring off against a non-violent protester in a T-shirt and jeans with both of his hands raised over his head. It is easy to see how visuals like these could dissuade people from taking to the streets to assemble in protest of police shootings, as is their moral and constitutional right ... If the police were dressed as civilians, but with helmets and shields, that would be more understandable".
The officer had been with the force for about six years and was on a routine patrol when he encountered the two young men, Ferguson Police Chief Tom Jackson said.
Nearly three dozen people were arrested following a candlelight vigil on Monday as crowds burned stores, vandalised vehicles, assaulted reporters and taunted officers.
A large crowd that gathered on Tuesday at a burned-out store turned rowdy at night, with people throwing rocks at police, Jackson said. Officers used tear gas and shot "beanbag rounds" meant to stun them.
At least five people were arrested.