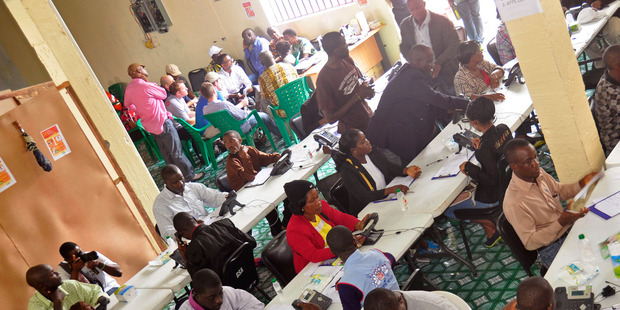 Liberia says it will soon receive doses of an experimental Ebola drug and will give it to two sick doctors, making them the first Africans to receive the scarce treatment.
The US Government said it had put Liberian officials in touch with the maker of ZMapp, and referred additional questions to Mapp Biopharmaceutical.
The Californian company said that in responding to a request from a West African country, it had run out of its supply of the treatment.
The news comes as anger grows over the fact that the only people to receive the experimental treatment have been Westerners - two Americans and a Spaniard, all evacuated to their home countries from Liberia.
In other developments yesterday:
The World Health Organisation said 1013 people had died in the Ebola outbreak in West Africa. Authorities have recorded 1848 suspected, probable or confirmed cases, the UN health agency said. The updated WHO tally includes figures from August 7-9 when 52 more people died and 69 more were infected.
Nigeria's commercial capital, Lagos, has 10 confirmed cases, up from seven. Two patients have died.
In the United States, three church workers - including the husband of a missionary being treated for Ebola in Atlanta - have been quarantined in North Carolina after returning from West Africa.
Rwandan authorities said they had quarantined a German student with Ebola-like symptoms. The patient was the first to be tested in Rwanda since the outbreak began.
China's ambassador to Sierra Leone, Zhao Yanbo, told journalists seven doctors and one nurse who treated Ebola patients had been placed under quarantine, but would not say whether they were showing symptoms of the disease. As well, 24 Sierra Leonean nurses, most from the military hospital in the capital, have been placed under quarantine, according to figures from Yanbo and hospital director Dr Sahr Foday.
Read more:
* Spanish charity cites safety lack for Ebola spread
* Are we ready for the Ebola threat?
* What's scary about Ebola, reasons not to fear it
* NZ begins Ebola checks on travellers from West Africa
Ivory Coast, which shares borders with Liberia and Guinea, has banned direct flights from the infected countries and said it would increase health inspections and enforcement of its borders. But it stopped short of closing them entirely.
No proven Ebola vaccine or treatment is available, but several apart from the one created by ZMapp are in development.
"There's no reason to try this medicine on sick white people and ignore blacks," said Marcel Guilavogui, a pharmacist in Conakry, Guinea.
"We understand that it's a drug being tested for the first time and could have negative side effects. But we have to try it in blacks too."
Some protesters are using Twitter to demand that the drug be made available.
"We can't afford to be passive while many more die," said Aisha Dabo, a Senegalese-Gambian journalist who was tweeting using the hashtag GiveUsTheSerum.
"That's why we raise our voice for the world to hear us."
The ethical dilemmas involved prompted the UN health agency to consult yesterday with ethicists, infectious disease experts, patient representatives and the Doctors Without Borders group.
Watch: Ebola fears mount, US on high alert

Most participants in the closed teleconference were from developed countries, but Uganda and Senegal were represented. The WHO said it would discuss the results of the meeting today.
Companies can provide experimental drugs on a "compassionate use" basis, usually after they have been fully tested in humans.
The Food and Drug Administration approves such uses in the US, but has no authority overseas. Ultimately, the companies alone decide whether or not to share their products.
Jungle child first victim
A child who died in a Guinea border town just before Christmas last year was the "patient zero" who provoked the crisis. The 2-year-old boy was from Gueckedou, a jungle village which lies on the border with Liberia and Sierra Leone, and was reportedly declared the first case of the outbreak by investigators.
- AP, Telegraph Group Ltd