An Australian couple denied they had abandoned their son with his Thai surrogate after learning he had Down syndrome, saying in an interview broadcast yesterday that the woman demanded she be allowed to keep the boy.
Baby Gammy's surrogate mother, Pattaramon Chanbua, a 21-year-old food vendor with two young children of her own, had accused the boy's biological parents, Wendy and David Farnell, of leaving her with the infant while taking his healthy twin sister, Pipah, back with them to Australia.
Read more:
• Dark side of fertility tourism exposed
"We did not abandon our son," an emotional David Farnell said in an interview with Australia's 60 Minutes. "(Pattaramon) said that if we tried to take our little boy, she's going to get the police and she's going to try and take our little girl and she's going to keep both of the babies," he said.
However, they admitted that on being told one of their twins would be born with Down's syndrome, they had sought a refund from the surrogacy agency.
David Farnell told 60 Minutes: "It was late into the pregnancy that we learned the boy had Down's. They sent us the reports but they didn't do the checks early enough. If it would have been safe for that embryo to be terminated, we probably would have terminated it, because he has a handicap and this is a sad thing. And it would be difficult, not impossible, but difficult.
"We were very confused and we said that this is your fault, you must now take some responsibility for this." He added that they would have aborted Gammy. No "parent wants a son with a disability".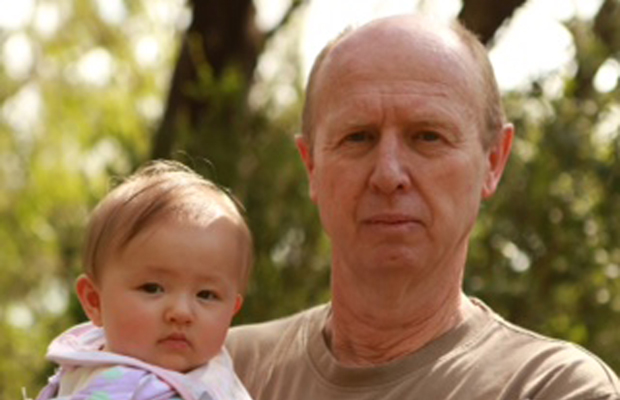 David Farnell poses with baby Pipah in Australia. Image/ 60 Minutes/AP
But under pressure, contradictions in the couple's story started to emerge.
Although they said they didn't want Gammy, they denied abandoning him. "We didn't leave him behind," Farnell said. "We wanted to bring him with us but things were happening that we couldn't.
"The surrogate mother wanted to take our girl and we were getting scared that we were going to lose her. We had to try and get out as fast as we could."
Farnell, tearful at times, said he did not contact Pattaramon or check on Gammy's health.
"We haven't asked directly," he said. "We've been trying to make sure first that Pipah is safe. No one can take her away from us. We've been trying to do that for six months. When we know she's 100 per cent safe with us then we can go and get our boy back."
When asked about his history of child abuse - he had been convicted of abusing children as young as five - Farnell said: "I have been convicted of child sex offences and I hang my head in shame. And I am deeply regretful for that. I am so, so sorry to those people. I was convicted and I went to jail."
He said he was no longer a danger to children. "I don't have any thoughts about this at all. That is 100 per cent the truth. I cannot do this again. I can't do this. I know that I do not have any urges at all of this nature. For 30 years I've known this. I don't have any urges."
His wife said she trusted him with children: "He had three children before, they all love him and respect him so much. They said he's a wonderful father."
Pattaramon denied that she'd ever threatened to keep both children, but agreed that she hadn't wanted the Farnells to take Gammy home.
"I did not allow Gammy to go back with them - that's the truth," she told The Associated Press on Sunday, apparently backtracking from her earlier accusation that the couple had abandoned the baby boy. "It is because they would have taken Gammy back and put him in an institute."
The case, which has focused global attention on the largely unregulated surrogacy industry in Thailand, became even murkier when it emerged that David Farnell had been convicted in the 1990s of multiple sex offenses against young girls. Farnell insisted Sunday that his daughter is not at risk of harm from him.
The Farnells had been trying for eight years to conceive when they approached a Thai surrogacy agency for help.
When the babies were born, however, the Farnells said they realised they wanted to keep both. But Pattaramon then insisted she be allowed to keep Gammy, and threatened to keep Pipah as well, David Farnell said. The couple believes Pattaramon wanted to keep Gammy because male children are prized in Asian cultures.
The Farnells said they never went to any officials or contacted the Australian Embassy in Bangkok about Pattaramon's alleged threat. They left Gammy and returned home to Western Australia state only with Pipah, they said, because their visa was running out.
They didn't apply for a visa extension because they wanted to get Pipah to Australia to keep her away from Pattaramon, David Farnell said. Their plan was to fight to get their son back by going through the Australian authorities, he said.
In the six months they have been back in Australia, however, they have never contacted the authorities about their son, because they say they still feel their daughter is at risk of being taken back by Pattaramon. They have never called to check on Gammy's welfare, and have contacted a liaison between themselves and Pattaramon only once, David Farnell said.
"It has been very stressing," he said. "We miss our little boy. I come home from work some days and Wendy has dressed our little girl all in blue because she wants still to remember the little boy."
Farnell rejected the suggestion that his predilection for young girls had influenced his decision to bring home his daughter and not his son.
"I'm actually ashamed you would say something like that," a tearful Farnell said. "Honestly, there is no reason to be concerned. I'm not going to harm my little girl."
"Everybody hates sex offenders - they're the lowest form of people, not even worthy of breathing," he added. "I know that. That's why I've tried so hard and wanted to be a good father for my children so that at least the people can see that I am a good person now."
The executive producer of 60 Minutes, Tom Malone, said the Farnells were not paid for the interview, but acknowledged that the program had made a donation to a charity raising money for Gammy's care.
- UK Independent, nzherald.co.nz