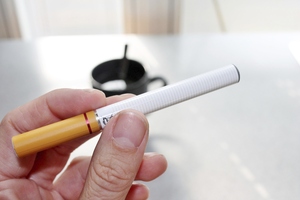 A Merseyside man died after his e-cigarette exploded and set fire to oxygen equipment in his Wallasey home.
Investigators from Merseyside Fire and Rescue Service (MFRS) found an e-cigarette that had been charging in David Thomson's bedroom exploded, caught fire and ignited the oxygen tube of an oxygen concentrator, which he may have been using.
There was a small amount of smoke damage to the property, though the fire in the bedroom had been extinguished by the time firefighters arrived.
The exact cause of 62-year-old Thomson's death has not been established.
It was the ninth fire involving e-cigarettes on Merseyside since the turn of the year, investigators said. MFRS has launched a campaign to give help and advice on smoke alarms and the use of the devices and their chargers.
- AAP