American forces intervene in conflict with food, water and firepower.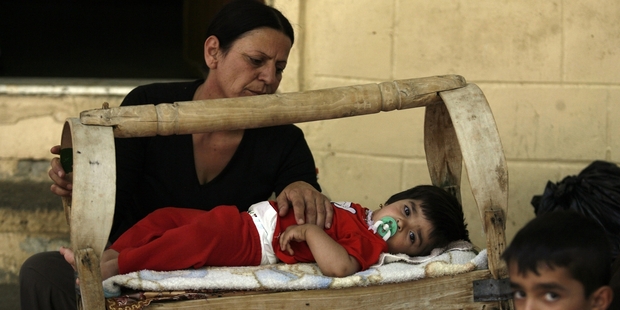 America has made a second air-drop of food and water to thousands of Iraqis hiding in northern mountains from jihadist fighters.
The humanitarian drop came hours after the US launched air strikes against militants from the Islamic State (IS), formerly known as ISIS.
Islamic State fighters, who have beheaded and crucified captives, had recently made fresh gains in northern Iraq, had seized the country's largest dam and advanced to within 30 minutes of Irbil, Iraq's Kurdish capital and a hub for US oil companies.
The US is also piling pressure on Iraqi leaders to form a unity government capable of dealing with the jihadists.
Many of America's allies backed the US intervention, pledging urgent steps to assist the refugees and displaced people.
Those in jeopardy included thousands of members of the Yazidi religious minority whose plight — trapped on a mountaintop by the militants — prompted the airdrops.
The Pentagon said a C-17 and two C-130 cargo planes dropped a total of 72 bundles of supplies yesterday. The cargo aircraft were escorted by two F/A-18s from the aircraft carrier USS George HW Bush.
The supplies were dropped into the mountains around the town of Sinjar, where up to 50,000 Yazidis fled an IS advance a week ago.
The aid was dropped into the mountains around the town of Sinjar, where up to 50,000 members of the Yazidi religious sect fled an IS advance a week ago.
IS fighters also seized Qaraqosh, Iraq's biggest Christian town, causing thousands more to flee.
In the first US air strike on Friday two 227kg were bombs dropped on IS artillery being used against forces defending Irbil.
In the second wave of attacks drones and fighter jets attacked a mortar position and a seven-vehicle convoy carrying fighters also threatening Irbil.
The extremists' "campaign of terror against the innocent, including the Yazidi and Christian minorities, and its grotesque and targeted acts of violence bear all the warning signs and hallmarks of genocide", said US Secretary of State John Kerry.
"For anyone who needed a wake-up call, this is it."
Underscoring the sense of alarm, a spokesman for Iraq's human rights ministry said hundreds of Yazidi women had been seized by the militants.
Kamil Amin, citing reports from victims' families, said some of the captured women were being held in Iraq's second-largest city, Mosul.
"We think that the terrorists by now consider them slaves and they have vicious plans for them," said Amin. "We think that these women are going to be used in demeaning ways by those terrorists to satisfy their animalistic urges in a way that contradicts all the human and Islamic values."
Marie Harf, a spokeswoman for the US state department, said the immediate goal of the strikes was to "prevent the advance" of IS towards Irbil, where United States personnel are based.
The state department warned American citizens against all but essential travel to Iraq and said those remaining in the country were at high risk for kidnapping and terrorist violence.
According to the UN, more than 500,000 people have been displaced by the violence in Iraq since June, bringing the total this year to well over 1 million.
In contrast to Washington's decision to invade Iraq more than a decade ago, the airdrop and the authorisation of military action against IS were widely welcomed by Iraqi and Kurdish officials fearful of the militants' advance.
"We thank Barack Obama," said Khalid Jamal Alber, from the Religious Affairs Ministry in the Kurdish government.
In Sydney, Prime Minister Tony Abbott said Australia has been talking to the United States about possible participation in humanitarian airdrops over northern Iraq.
- AP, AAP