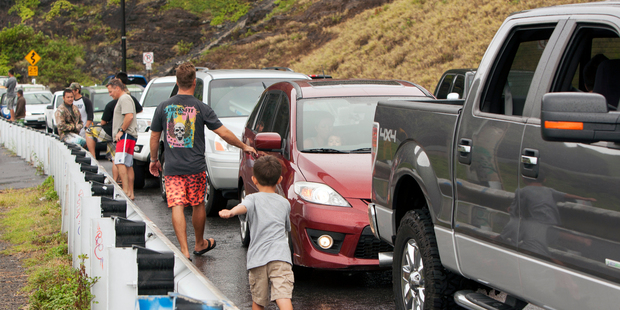 Tropical Storm Iselle brought big surf, strong winds and heavy rain to Hawaii last night, but the severe weather did not disrupt Air New Zealand flights.
Iselle was downgraded from a hurricane before it made landfall last night.
New Zealanders on holiday in Hawaii had been warned the tropical storm could cause havoc for their travel plans.
Air New Zealand said flights had not been disrupted by the storm.
David Hutcherson of Auckland emailed the New Zealand Herald with details of the storm as he experienced it from his Waikiki hotel room.
He said the famous white sand of Waikiki beach was bare this morning.
"The winds have whistled all night past our 20th floor windows, and we have woken to a view of an almost deserted Waikiki beach and strand.
"Last night we could not find any local restaurants taking bookings for this evening.
"The tall buildings in the area have take balcony furniture inside, we have our deck chair in the room, and all the pool furniture has been stacked away securely.
"We have been hearing sirens all morning and seeing Emergency Services vehicles racing up the road between the beach and the hotel."
Mr Hutcherson had been told to keep his curtains drawn in case windows shattered in his hotel room.
He said he could not get confirmation that his flight to Las Vegas on Sunday would go ahead.
"We have heard that a large number of flights have either been cancelled or rescheduled, and where we would normally see and hear constant air traffic into and out of the airport we can see no activity at all."
Auckland woman Mikhal Norriss, who was on holiday with a friend in Hawaii, said her package tour ended early yesterday because the tour guide was worried about the storm.
"I was talking to a local woman who said everyone has been stocking up on water and when she was at Walmart they were all out."
Many tour operators had shut down for the weekend, she said.
The hurricane was all tourists and locals were talking about.
"All the bars have the weather channel on and the hotels have weather updates and storm warnings in the foyer."
A second hurricane, Hurricane Julio, with winds of more than 100 miles per hour, could reach the islands of Hawaii over the weekend.
- APNZ