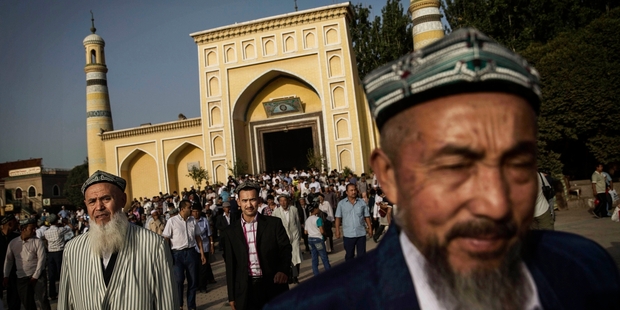 A city in China's mainly Muslim Xinjiang region has banned people with large beards or Islamic clothing from travelling on public buses, state media said, prompting outrage from overseas rights groups.
Authorities in Karamay banned people wearing hijabs, niqabs, burkas, or clothing with the Islamic star and crescent symbol from taking local buses, the Karamay Daily reported.
The ban also covers "large beards", the paper said, adding: "Those who do not co-operate with inspection teams will be handled by police."
While many Uighur women still dress in much the same casual style as those elsewhere in China, some have begun to wear the full veil, a garment more common in Pakistan or Afghanistan than in Xinjiang.
Xinjiang, a resource rich region which abuts central Asia, is the homeland of China's mostly Muslim Uighur minority who speak a Turkic language.
It has been hit by a wave of clashes between locals and security forces. Hundreds have died in the unrest in Xinjiang in the past 18 months, but tight security makes it almost impossible for journalists to make independent assessments of the violence.
China has blamed several deadly attacks on civilians outside of Xinjiang in recent months on "terrorists" seeking independence for the region.
Police in Xinjiang have offered money for tips on everything from "violent terrorism training" to individuals who grow long beards.
Rights groups say restrictions on Uighurs' religious and cultural freedoms have stoked tensions.
China last month enforced a ban on students and government staff from Ramadan fasting, while officials have also tried to encourage locals in Xinjiang not to wear Islamic veils.
The Karamay restrictions are "a typical discriminatory measure ... which add to an increasing confrontation between Uighurs and Beijing," Dilxat Raxit, a spokesman for the exiled World Uighur Congress, said.
"Officials in Karamay city are endorsing an openly racist and discriminatory policy aimed at ordinary Uighur people," Alim Seytoff, the president of the Washington-based Uighur American Association, said in an emailed statement.
Chinese state media said on Sunday that nearly 100 people including 59 "terrorists" had been killed in an attack in Xinjiang last week.
The report came days after the Government-appointed head of the largest mosque in China, in one of the region's oldest cities, Kashgar, was killed after leading morning prayers.
China announced a year-long crackdown following a deadly bombing attack in Xinjiang's capital Urumqi in May, and hundreds of alleged terrorists have been arrested.
Security on public transport has also been tightened.
The Karamay ban applies during a sports competition ending on August 20.
Authorities in Urumqi last month banned bus passengers from carrying a range of items, including cigarette lighters and yoghurt, state media said.
- AFP