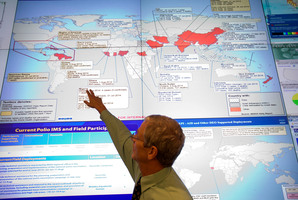 Spain sent an air force plane to Liberia to fly home an elderly Spanish missionary infected with Ebola, the first patient to be returned to Europe in a fast-spreading outbreak of the deadly disease.
The military Airbus A310, specially equipped for a medical evacuation, took off for the west African country from Madrid's Torrejon military air base at around 1:30 pm (1130 pm NZT), the defence ministry said in a Twitter message.
Miguel Pajares, a 75-year-old Roman Catholic priest, tested positive for Ebola at the Saint Joseph Hospital in Monrovia where he worked, according to the Spanish aid organisation he works for, Juan Ciudad ONGD.
Since breaking out earlier this year, the epidemic has claimed 932 lives and infected more than 1,700 people across west Africa, according to the World Health Organization.
Other cases have been reported in Guinea, Sierra Leone and Nigeria.
The Spanish priest will be the first person infected in the African outbreak to be repatriated to Europe for treatment.
Two Americans who worked for Christian aid agencies in Liberia and were infected with Ebola while taking care of patients in Monrovia were brought back to the United States for treatment in recent days.
"We regret all this because these people were here to help us and they are going back with illness," Liberian Information Minister Lewis Brown told AFP in Monrovia.
The Spanish patient, who has worked in Liberia for more than five decades, will be treated at the Hospital Carlos III in northern Madrid which is specialised in tropical diseases, a hospital spokesman said.
"This news has lifted my spirits, it is great, I am very happy. It is worth fighting on," he told the online edition of daily Spanish newspaper ABC by telephone when told that he would be repatriated.
Ebola causes severe fever and, in the worst cases, unstoppable bleeding. It is transmitted through close contact with bodily fluids, and people who live with or care for patients are most at risk.
The Spanish priest has been in quarantine at the Saint Joseph Hospital in Monrovia, along with five other missionaries, since the death on Saturday of the hospital's director from Ebola.
Two other missionaries who were in quarantine at the same hospital along with Pajares -- Chantal Pascale of the Democratic Republic of Congo and Paciencia Melgar Ronda of Equatorial Guinea -- also tested positive for Ebola.
'Can't let them die'
Juan Ciudad ONGD, which runs hospitals around the world, asked the Spanish foreign ministry to fly out the two women, as well as another Spanish missionary who works at the Saint Joseph Hospital in Monrovia, Juliana Bonoha Bohe, who is not infected with Ebola.
Spain's public health director, Mercedes Vinuesa, said the authorities were dealing only with a request for Spanish citizens for the moment.
"What the country is considering is the repatriation of Spaniards," she told a news conference.
During an interview broadcast on Monday, the Spanish priest had said he and the other missionaries wanted to be taken to Spain for treatment.
"I have a fever. I don't have any appetite, I could go without eating anything, I have a lot of pain in my joints. I need help to move from one place to the other," he told CNN en Espanol, a 24-hour Spanish-language news network.
The Spanish defence ministry said the Airbus A310 was equipped to safely transport three patients without risk of contagion if required to do so.
The Spanish priest's cousin, Begona Martin, appealed for the Spanish government to evacuate the African missionaries who are ill.
"We hope that they don't leave them there because we know what the outcome will be. As Miguel has said, they would be condemned to death. We can't let them die this way," she told news radio Cadena Ser.
- AP