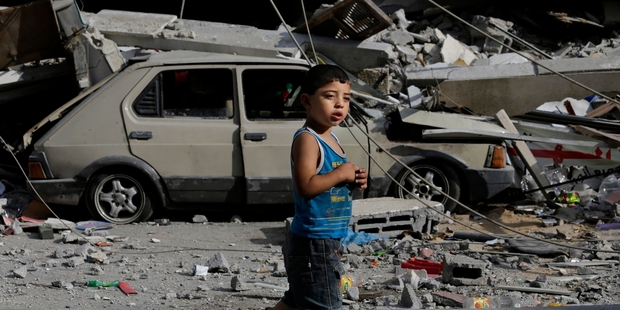 A 72-hour ceasefire between Israel and Palestinian militant groups in the Gaza Strip was broken last night after less than three hours.
Israeli shelling killed eight people in southern Gaza, medics said, just hours after the humanitarian ceasefire took effect.
A doctor at nearby Abu Yusef al-Najjar hospital gave no immediate details of the identities of those killed, but said they had died in a bombardment east of the southern city of Rafah, after an AFP correspondent saw heavy shelling of the area.
The 72-hour break had been announced in a joint statement by John Kerry, the United States Secretary of State, and Ban Ki-moon, the United Nations Secretary-General. It was the most ambitious attempt so far to end more than three weeks of fighting, and followed mounting international alarm over a rising Palestinian civilian death toll.
"This ceasefire is critical to giving innocent civilians a much-needed reprieve," the statement said.
After the ceasefire began at 8am local time (5pm NZT), Gaza's streets began to fill with Palestinian families. Laden with belongings, they streamed back to homes they fled during fierce fighting that destroyed or damaged thousands of dwellings.
In Israel, sirens that have sent tens of thousands running for shelter daily fell silent.
Within hours, though, the fighting resumed. A CBS News team approaching the Kerem Shalom border crossing at the far southern end of the Gaza Strip, from the Israeli side, heard explosions and was told by Israel Defence Forces personnel that rocket fire was coming into the area from the Gaza side.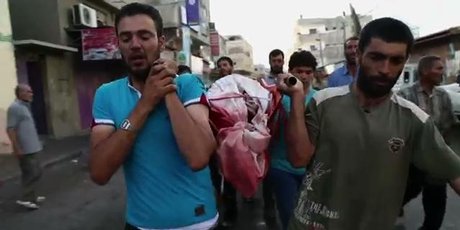 Soon after, Gaza officials said Palestinians had been killed by Israeli tank fire east of the southern Gaza city of Rafah. Health Ministry official Ashraf al-Kidra and Gaza police spokesman Ayman Batniji said 15 other Palestinians were wounded in the shelling. Israel said it was looking into the reports.
Diplomats have struggled to broker a lasting truce in a 25-day-old war that has killed more than 1450 Palestinians, mainly civilians, and at least 60 Israelis, mostly soldiers.
Yesterday's ceasefire came after heavy fighting that killed 17 Palestinians and five Israeli soldiers.
Israel and Hamas agreed to halt all aggressive operations and conduct only defensive missions to protect their people. But Kerry, knowing how hard it would be to get the truce to stick, cautioned there were "no guarantees" that the lull would bring an end to the war.
Israel launched an aerial campaign against Gaza aimed at halting Hamas rocket fire on July 8 and later sent in ground troops to target launch sites and tunnels used to carry out attacks inside Israel.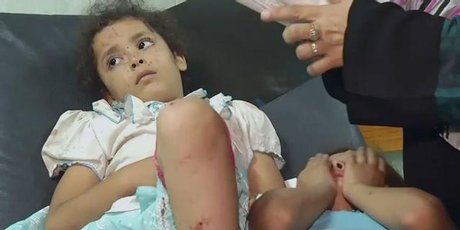 At least four short humanitarian ceasefires have been announced since the conflict began, but each has been broken within a few hours by renewed fighting.
Under the ceasefire, Israeli troops on the ground in Gaza were to continue to destroy tunnels along the heavily guarded frontier, but only those that are behind Israeli defensive lines and lead into Israel.
Israeli Prime Minister Benjamin Netanyahu on Thursday vowed to destroy Hamas' tunnel network "with or without a ceasefire". But military spokesman Moti Almoz told Army Radio yesterday Israel would not be able to eliminate the tunnel threat "100 per cent".
Yesterday, Palestinians in Gaza were briefly able to receive food, medicine and humanitarian assistance, bury their dead, treat the wounded and travel to their homes. The lull was also seen as an opportunity to make repairs to water and electricity infrastructure.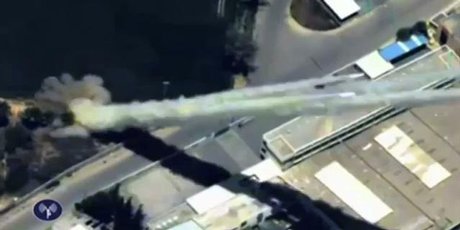 Egypt issued a statement yesterday calling on the Western-backed Palestinian Authority and Israel to send negotiation teams to Cairo to discuss "all issues of concern to each party within the framework of the Egyptian initiative".
Egypt had put forth a ceasefire proposal a week after fighting began last month. Israel accepted the proposal, but Hamas, which deeply mistrusts Egypt following the overthrow of an Islamist Government in Cairo, rejected it.
Hamas has demanded the lifting of an Israeli and Egyptian border blockade imposed on Gaza in 2007 when the Islamic militant group seized power, as well as the release of Palestinians rounded up in the West Bank in June following the killing of three Israeli teenagers.
In recent weeks Turkey and Qatar, which have warmer ties to Hamas, have tried to help broker a ceasefire agreement, with no results.
It's not clear whether other nations will attend the Egypt talks, and aides to Kerry said Egypt would ultimately decide who will participate. A Hamas official in Qatar said Hamas and Islamic Jihad officials would be participating in the Egypt talks. Israel will not meet directly with members of either group because it considers them terrorist organisations.
Hours before the ceasefire was to take effect, 17 Palestinians were killed in Israeli strikes, including 10 from the same family after an airstrike on their home, said Gaza health official Ashraf al-Kidra.
- AP