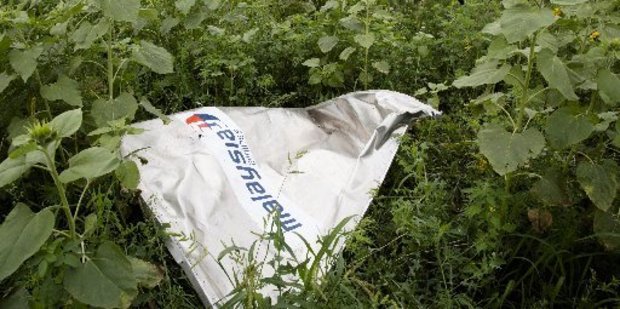 An international probe into the downing of flight MH17 in eastern Ukraine has inched forward, as Australian and Dutch experts risked attack to reach the crash site for the first time in nearly a week after Kiev announced a halt to its military offensive.
Meanwhile, Foreign Minister Julie Bishop has told journalists in Kiev there are no plans for officials to take armed forces to the site, for fear of becoming entangled in a murky conflict that has claimed over 1100 lives in more than three months of bitter fighting.
A small team of experts, accompanied by international monitors, accessed the vast site of the doomed Malaysia Airlines jet after days of fierce fighting between government forces and rebels had stopped them reaching the area.
The Dutch justice ministry said the team was so far only a "reconnaissance" mission, but would hopefully pave the way for more experts to visit soon.
In a sign of the continuing insecurity, an AFP team following some minutes behind the convoy heard loud blasts just a few kilometres away from the site and saw black smoke rising from a village close to where some of the plane wreckage is lying.
Russia's aviation authorities said a team of their own experts had arrived in Kiev and were hoping to reach the site.
Meanwhile, negotiators from Kiev and Moscow began talks in the Belarussian capital Minsk, but there was little hope for a major breakthrough despite Russian media reports that the rebels were also attending.
That came as politicians in Kiev ratified agreements with The Hague and Canberra that could enable the two nations to send some 950 armed personnel to secure the location where many of their citizens died.
However, in Kiev, Bishop told journalists the pact was only an "insurance policy" and insisted there were no plans for officials to take armed forces to the crash site.
Ukraine's military had earlier announced a "day of quiet" across the entire east after a plea from UN chief Ban Ki-moon to halt fighting around the crash site, where the remains of some of the 298 victims remain two weeks after the jet was shot down over rebel territory.
Ukrainian President Petro Poroshenko said Thursday's site visit went well and gave a guarantee that experts would be able to work daily at the scene from Friday in a phone call with the Australian and Dutch prime ministers, calling on rebels to respect a 20-kilometre ceasefire zone around the debris.
The West says the insurgents likely shot down the plane with a missile on July 17, but Russia and the rebels said it could have been blown out of sky by a Ukrainian jet.
- AFP