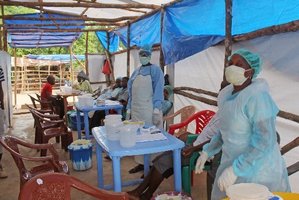 Liberia is shutting all schools and placing "non-essential" government workers on 30 days' leave in a bid to halt the spread of the deadly Ebola epidemic raging in west Africa.
"All schools are ordered closed following further directives from the ministry of education," President Ellen Johnson Sirleaf said in a televised address. "All markets at border areas are hereby ordered closed until further notice."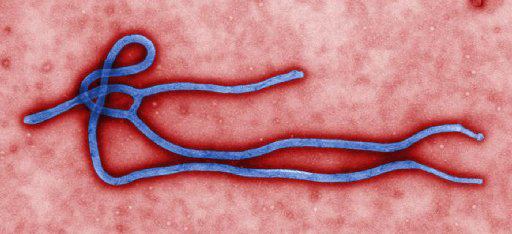 The Ebola virus. Photo / AP, CDC
Liberia, along with neighbouring Guinea and Sierra Leone, is struggling to contain an epidemic that has infected some 1200 people and left at least 670 dead across the region since the start of the year.
"All non-essential staff - to be determined by the heads of ministries and agencies - are to be placed on 30 days' compulsory leave," Sirleaf added.
"Friday August 1 is declared a non-working day and is to be used for the disinfection of all public facilities."
She said Liberia, where the death toll stands at 129 from 249 cases, would be contributing US$5 million (NZ$5.89 million) as an "initial contribution" to the regional fight against Ebola.
Fears that the west African Ebola outbreak could spread to other continents is growing, with European and Asian countries on alert and a leading medical charity warning the epidemic is out of control.
Read more:
* NZ makes plans for ebola outbreak
* What is the Ebola virus?
Doctors Without Borders (MSF) said the crisis gripping Guinea, Liberia and Sierra Leone will only get worse and warned there is no overarching strategy to handle the world's worst-ever outbreak of the disease.
In Hong Kong, a densely populated city previously scarred by disease outbreaks such as the 2003 SARS epidemic, health officials confirmed they would quarantine as a precautionary measure any visitors from Guinea, Sierra Leone and Liberia who showed fever symptoms.
One woman arriving in the southern Chinese city from Africa, who showed symptoms including fever and vomiting, has tested negative for Ebola.
Watch: Doctors warn Ebola outbreak is 'unprecedented'

The International Civil Aviation Organisation (ICAO) has held talks with global health officials on potential measures to halt the spread of the disease.
ICAO secretary general Raymond Benjamin said the virus crossing borders for the first time by plane could lead to new flight restrictions aimed at containing outbreaks and they will have to act quickly.
In Britain, Foreign Secretary Philip Hammond chaired the government's COBRA crisis management committee to assess the situation, although only one person has tested negative for the disease.
"The prime minister does regard it as a very serious threat," Hammond said.
"We are very much focused on it as a new and emerging threat which we need to deal with."
Watch: Deadly Ebola virus threatens West Africa

He said the emergency meeting had decided that the best approach was to provide "additional resources to deal with the disease at source" in west Africa.
Ebola can kill victims within days, causing severe fever and muscle pain, vomiting, diarrhoea and, in some cases, organ failure and unstoppable bleeding.
Since March, there have been 1201 cases of Ebola and 672 deaths in Guinea, Liberia and Sierra Leone, according to the World Health Organisation (WHO).
The European Union is equipped and ready to treat victims should the deadly virus be found in its 28 member states, an EU source said in Brussels.
"We cannot rule out the possibility that an infected person arrives in Europe, but the EU has the means to track and contain any outbreak rapidly," the source said.
The isolation and negative testing of a suspected case in Valencia in Spain showed that the "system worked", added the source.
- AFP