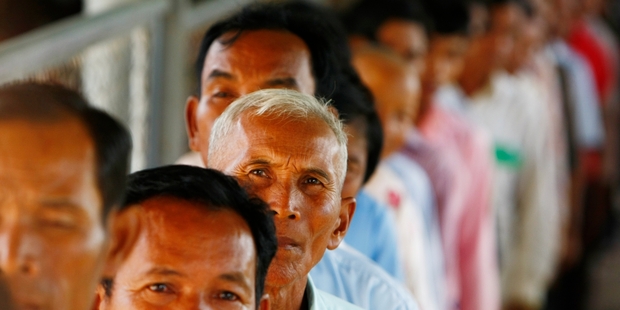 A United Nations-backed tribunal yesterday began a hearing to prepare for the genocide trial of the two senior surviving leaders of Cambodia's Khmer Rouge, under whose rule an estimated 1.7 million people died in the late 1970s from starvation, exhaustion, disease and execution.
Khieu Samphan, 83, the regime's head of state, and Nuon Chea, 88, right-hand man to the group's late leader, Pol Pot, are already set to face sentencing next week after being tried for crimes against humanity related mostly to the communist group's forced movement of millions to the countryside when it took over in 1975.
The tribunal's chief judge, Nil Nonn, opened the hearings by reading the charges and crime sites set to be heard in the newest trial segment.
Officials say their second trial, with witnesses and presentation of evidence, is likely to begin in the last quarter of this year. It will cover extra crimes against humanity, and add charges of genocide for the killings of members of Cambodia's Vietnamese and Cham ethnic minorities.
The crimes of rape and forced marriages will also be considered for the first time.
Nonn said the hearing yesterday was to "clarify issues ahead of the case".
Because he is unable to sit for long periods of time, Nuon Chea stayed in his holding cell. Khieu Samphan appeared in good health, diligently taking notes.
Because of the defendants' advanced age and poor health, the case against them was divided into separate smaller trials.
So far, only one person has been convicted by the tribunal since it began in 2006. The head of the notorious S-21 torture centre, Kaing Guek Eav - also known as Duch - received a sentence of life imprisonment in February 2012.