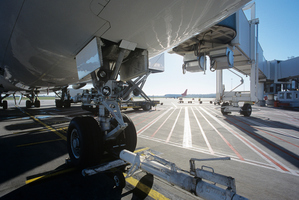 The body of an adolescent boy was found in a wheel well of a US military cargo plane after it landed in Germany over the weekend, the Pentagon says.
The "apparent stowaway" was discovered on Sunday night during a "routine post-flight inspection" of the C-130J aircraft at Ramstein Air Base, spokesman Rear Admiral John Kirby told a news conference on Tuesday.
The boy was found above the aircraft's rear landing gear and it was unclear when or where he had climbed into the compartment, Kirby said.
The boy "was an adolescent black male, possibly of African origin", he said.
The plane had been flying operations in support of US Africa Command "with stops in a few countries", Kirby said without naming the nations.
A US defence official speaking on condition of anonymity said the plane had been on an eight-day mission in Africa that included a visit to Mali.
German authorities were conducting an autopsy and an investigation into the case.
- AFP