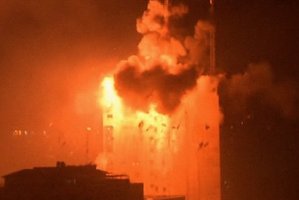 A surge of bloodshed in and around Gaza has left eight Palestinian children dead, claimed four lives in Israel and shattered hopes for an end to three weeks of devastating violence.
It was a bloody start to the three-day Muslim holiday of Eid al-Fitr which began on Monday, with international demands for an end to the fighting falling on increasingly deaf ears.
"In the name of humanity, the violence must stop," pleaded UN Secretary-General Ban Ki-moon after holding long talks with Israeli Prime Minister Benjamin Netanyahu, urging him to "stop the violence" and heed international calls for a ceasefire.
Read more:
* Eight children die as missile hits Gaza playground
* Israel's fateful call: declare victory or push on?
* Anti-Semitic attacks grow
* UN calls for 'unconditional humanitarian cease-fire'
But Netanyahu appeared determined to press the offensive. "We must be prepared for a lengthy campaign," he said in a live broadcast after a mortar attack killed four people in southern Israel, and troops fought a gun battle with Palestinian militants who snuck across the border.
"We will not end this operation without neutralising the tunnels whose sole purpose is killing our citizens."
As he spoke, the military sent messages to thousands of Palestinians in Shejaiya, Zeitun, Jabaliya, Beit Lahiya and Beit Hanun, urging them to flee their homes and seek shelter in central Gaza City as troops prepared to step up their 21-day campaign. Shortly afterwards, the cloudy skies over Gaza lit up with flashes as the army began an intensive wave of air strikes and heavy shelling across the strip.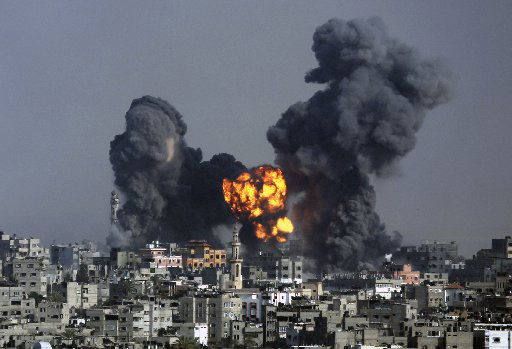 Smoke and fire from a missile explosion in Gaza City. Photo / AP
Medics said 10 people were killed in the first wave of strikes, among them three children who died with two adults when a shell hit a house in the northern town of Jabaliya, emergency services spokesman Ashraf al-Qudra said.
Another five died in a strike on Khan Yunis in southern Gaza, taking to at least 29 the number of killed on Monday, and 1067 in the 21 days of violence.
Monday had started with a deceptive air of calm in and around Gaza following a quiet second night in which both sides appeared to be observing an undeclared ceasefire.
Despite the lull, there was little mood for celebration in Gaza City as the three-day Eid holiday got under way, with families quickly leaving the mosque after prayers to head straight home or to pay their respects to the dead.
Watch: Gaza fighting continues among cease-fire efforts

But tensions rose sharply after medics said a shell had struck a building inside the Shifa hospital compound in Gaza City, which was quickly followed by reports of a blast hitting a children's playground in a beachside refugee camp, which left 10 dead, eight of them children.
Witnesses said the youngsters had been playing on a swing set.
"The children were playing and were happy, enjoying Eid, and they got hit. Some lost their heads, others their legs and hands," Nidal Aljerbi, a witness, told The Associated Press.
Another man stood beside a pool of blood and cried: "We don't want an agreement. We don't want a cease-fire. All of us, children, women, will give our souls for God!"
In a hectic scene, Palestinians shed tears outside the doors of the morgue at Gaza City's Shifa Hospital, and relatives crammed into the hall. The bodies of three children lay on shelves in the mortuary, their clothes heavily bloodstained, their flesh torn by shrapnel.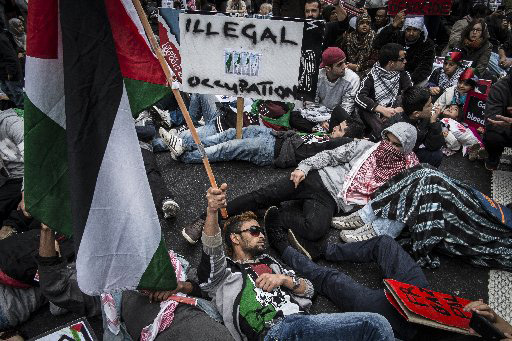 Demonstrators in Auckland's Queen St protest Israeli aggression in Gaza.
Photo / Michael Craig
The Israeli army categorically denied it had fired at the camp.
Residents in the Shati camp said an F-16 fired several missiles at a motorised rickshaw, with medics confirming 10 dead with another 46 injured, including many children.
But the army denied any involvement, blaming errant rocket fire by Palestinian militants. "We have not fired on the hospital or on Shati refugee camp," Major Arye Shalicar said, adding that the only drones used near Shifa were not equipped with missiles.
"We know that Hamas was firing from both areas and the missiles struck these places," he said, adding that 200 missiles fired at Israel had fallen short and landed inside Gaza in the past three weeks.
The Israeli military released aerial photographs that it said showed the paths of two misfired rockets that hit the Shifa Hospital and the park. It said the paths were detected by Israeli military radar and sensors.
Shortly afterwards, a mortar shell struck southern Israel, killing four soldiers near a kibbutz opposite Gaza City, the army said.
Media reports said another dozen people were wounded in the strike but it was not immediately clear if they were soldiers or civilians in an attack claimed by Hamas militants from the Ezzedine al-Qassam Brigades, which said it was revenge for the deaths in Shati camp.
Around the same time, troops in nearby area of southern Israel fought a gun battle with a group of militants who emerged from a cross-border tunnel close to a kibbutz, killing one of the gunmen, the army said.
Sports stars voice their concern
Meanwhile, England cricketer Moeen Ali is facing possible disciplinary action with the International Cricket Council (ICC) "investigating" his decision to wear wristbands in support of Gaza during the ongoing third Test match against India.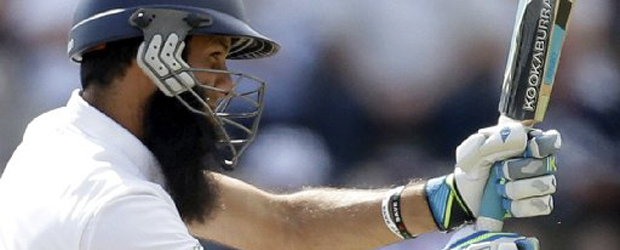 England cricketer Moeen Ali is unlikely to face punishment for wearing wristbands saying "Save Gaza" and "Free Palestine" while batting. Photo / AP
Ali wore wristbands that read "Save Gaza" and "Free Palestine", while batting during England's first innings on Monday at the Rose Bowl in Southampton.
An ICC spokesman told AFP news agency: "We're investigating and will report in due course."
The England and Wales Cricket Board said "we don't believe he has committed an offence."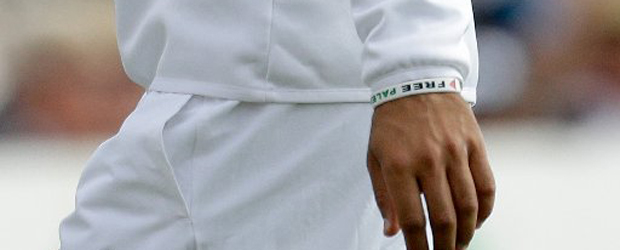 Moeen Ali's "Free Palestine" wristband, worn while fielding for England against India. Photo / AP
The 27-year-old, a practising Muslim of Pakistani descent, was photographed earlier this week helping raise funds for Gaza relief efforts in his home city of Birmingham in central England.
Ali's wristbands were only on public display for 42 minutes while he made 12 runs off 28 balls before he was caught off India seamer Bhuvneshwar Kumar.
On Friday, Malaysian cyclist Azizulhasni Awang was warned he risked being thrown out of the Commonwealth Games if he repeated wearing gloves bearing the message "Save Gaza". Though Awang insisted his message was "humanitarian" rather than politically-charged, he issued an apology.
AFP, AAP, AP