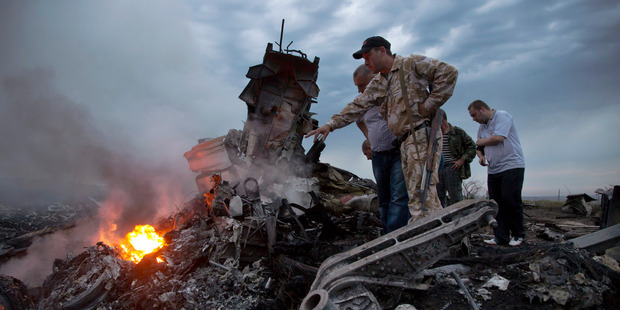 Black boxes recovered from downed Malaysia Airlines flight MH17 in rebel-held east Ukraine show shrapnel from a rocket explosion caused the passenger jet to crash, a Ukrainian security official said.
International investigators "indicated that data from flight recorders show that the reason for the destruction and crash of the plane was massive explosive decompression arising from multiple shrapnel perforations from a rocket explosion," said Andriy Lysenko, spokesman for Ukraine's National Security and Defence Council.
Read more:
* MH17 crash investigation abandoned due to fighting
* Family gather to remember Kiwi victim
* Putin faces lawsuit over MH17 disaster
* Call for global agency to decide on safety
Data from the doomed airliner's black boxes was decrypted in Britain after being handed over to Malaysian officials by pro-Russian rebels controlling the crash site of MH17.
Investigators leading the probe in the Netherlands, which lost 193 citizens, refused to confirm the latest information from Kiev, saying that they were "waiting to get a more complete idea of what happened."
Kiev and its Western allies have accused insurgents of shooting down the plane, killing all 298 people on board.
In Moscow, the head of the Russian experts participating in the crash probe, criticised Lysenko for commenting publicly without the authorisation of the chief of the investigation as is required by international agreements.
Oleg Storchevoi, the deputy head of Russia's air regulator, was quoted by Russian news agencies as saying Ukraine has "violated the basic principles of cooperation in the investigation of air crashes."
Fighting delays international access to crash scene
Meanwhile, Australian and Dutch police will make a third attempt to access the site of the downed Malaysia Airlines jet in eastern Ukraine to recover bodies and evidence.
For the second day running the unarmed police contingent has been forced to turn around before reaching the MH17 crash site due to heavy shelling.
Australia's Prime Minister Tony Abbott said he would make another round of telephone calls to the Russian and Ukrainian leadership today. But at present it was a "confused situation on the ground", Mr Abbott told Macquarie Radio in an interview.
"There is fighting and it's not just the separatists, it's the Ukrainian government as well," the prime minister said.
"They have all made a commitment to use their best endeavours to get the site safe enough for us to go on board ... and it's high time those commitments were honoured."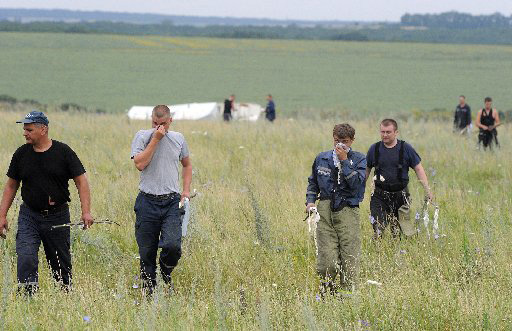 Searchers hunt for bodies from MH17. Photo / AFP
Mr Abbott said he was certain there were still bodily remains at the crash site. "We owe it to the dead, we owe it to their loved ones, to get them back."
Mr Abbott said Australia recognised the Ukraine's sovereignty but also acknowledged that the crash site was "contested space" and that Russia had a "very high degree of influence" over some of the separatists.
The Ukrainian military recently seized back a number of villages in the country's east with a continuing show of strength, including tanks and shelling.
Australia's Foreign Minister Julie Bishop and special envoy Angus Houston met Ukrainian president Petro Poroshenko yesterday to discuss an exclusion zone and humanitarian corridor.
Ms Bishop also wanted the Ukrainian parliament to ratify a deployment agreement she signed with her counterpart, Pavlo Klimkin, that would allow Australia to send in armed police or soldiers.
Meanwhile, Ukraine and 11 countries that lost 298 citizens in the MH17, which is believed to have been shot down by separatists, have agreed to set up a joint team of prosecutors to examine possible criminal charges.
The nations met in The Hague under the umbrella of Europe's judicial co-operation agency Eurojust yesterday, to discuss a joint strategy.
- AFP, AAP