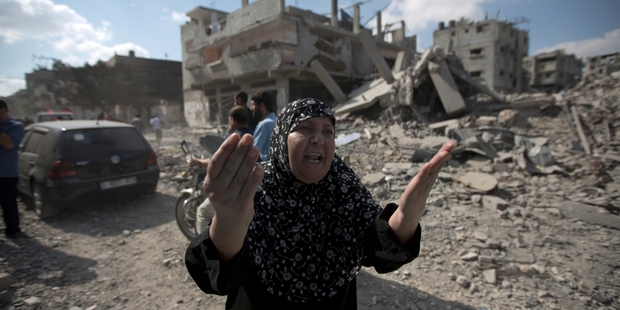 Gaza residents used a 12-hour humanitarian cease-fire yesterday to stock up on supplies and survey the devastation from nearly three weeks of fighting, as they braced for a resumption of Israel's war on Hamas amid stalled efforts to secure a longer truce.
In the northern town of Beit Hanoun, the main road was impassable in parts due to the debris from the damaged homes. The town's hospital had been hit by a tank shell, power lines were dangling and dead donkeys were strewn on the street. A man was hitting his head and wailing "my house, my house".
Sitting outside a shop on the main road near a pile of rubble, 37-year-old Siam Kafarneh was crying. The mother of eight said the home she had moved into two months earlier and spent 10 years saving for had been destroyed.
"Nothing is left. Everything I have is gone," she said.
Israel and Hamas began the 12-hour pause in hostilities at 8am local time after intensive regional shuttle diplomacy by US Secretary of State John Kerry failed to produce a longer truce aimed at ending nearly three weeks of fighting.
The temporary lull appeared unlikely to change the course of the current hostilities amid ominous signs that the war was spilling over into the West Bank and a warning by Israel's Defence Minister that it might soon expand its Gaza ground operation "significantly".
The Israeli military said its troops "shall respond if terrorists choose to exploit" the lull to attack Israeli soldiers or civilians. The military also said "operational activities to locate and neutralise tunnels in the Gaza Strip will continue".
Israel launched a major aerial offensive in Gaza on July 8 and later sent ground troops into the Hamas-ruled territory in a bid to halt Palestinian rocket fire and destroy a vast network of cross-border tunnels used by militants to stage attacks.
To date, 926 Palestinians, mainly civilians, have been killed. Israel wants more time to destroy tunnels and rocket launching sites in Gaza; Hamas wants international guarantees that an Israeli and Egyptian blockade will be lifted.
The Israeli Government has also begun suggesting that Gaza be demilitarised as a condition for a permanent cease-fire. The current war is the third in Gaza in just over five years.
- AP