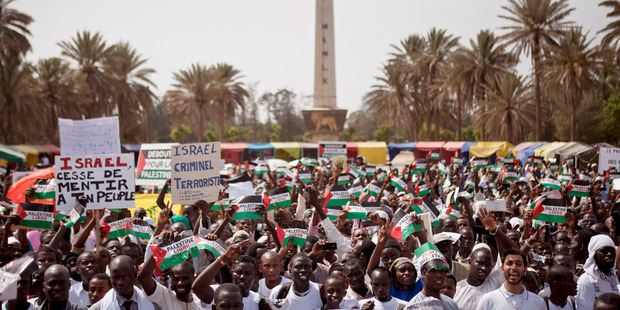 A Hamas official told AFP that the Islamist militant group would observe a 12-hour Gaza ceasefire starting later in the morning.
"There is national consensus on a humanitarian truce... for 12 hours on Saturday, from 8:00 am to 8:00 pm, (0500 to 1700 GMT)," Hamas spokesman Sami Abu Zukhri told AFP.
A US official said late Friday that Israel had decided on a unilateral 12-hour Gaza ceasefire from 7:00 am Saturday morning.
There has been no official Israeli comment but Haaretz newspaper quoted an unnamed senior Israeli official as confirming a 7:00 am Israeli ceasefire.
It was unclear whether the ceasefire was due to start at 7:00 am Israeli time or GMT.
Gaza toll exceeds 850 as conflict rages on medics
Israeli fire on Gaza killed a pregnant woman and a senior Islamic Jihad figure Friday, as the Palestinian death toll from 18 days of violence exceeded 850, emergency services said.
Surgeons saved the life of the 23-year-old woman's unborn child after the air strike hit a house in the central Gaza town of Deir al-Balah, emergency services spokesman Ashraf al-Qudra said.
Another air raid killed a senior spokesman for Islamic Jihad, the second largest militant group in Gaza after Hamas, which dominates the territory.+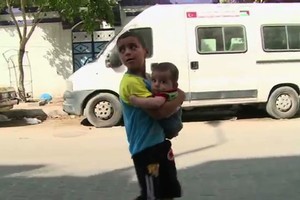 Salah Hasanein's sons, 12 and 15, were also killed in the strike in the southern city of Rafah, Qudra said.
Islamic Jihad confirmed the deaths.
The strikes took the Palestinian death toll in Gaza since Israel launched its offensive on July 8 to 865.
Rockets and mortar rounds fired into Israel have killed three civilians - two Israelis and a Thai farm worker - and fighting in and around Gaza has killed 35 Israeli soldiers.
It is the bloodiest conflict around the blockaded Palestinian territory since 2008-9.
Human rights watchdogs say that some 80 percent of the Palestinian dead have been civilians, many of them women or children.