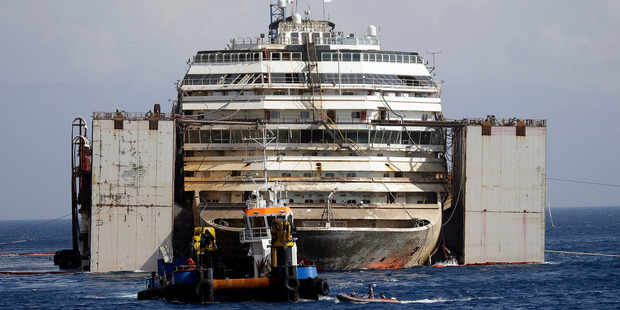 Italy's Costa Concordia is ready to set sail on its final voyage as survivors look on, two-and-a-half years after the luxury cruise ship crashed and sank, leaving 32 people dead.
The rusting liner, which has been floated from its watery grave in the biggest salvage operation of a passenger ship ever performed, will be towed away to the port of Genoa in northwest Italy to be dismantled and scrapped.
Surviving passengers who have returned to Tuscany's Giglio island will gather with locals and holidaymakers to bid a final farewell to the once-magnificent cruise ship.
"We hope that many of our feelings (from the night of the disaster) will leave when the boat leaves. And that as it goes on its way, we can finally go on ours," said Anne Decre from the French Survivors' Collective, as she clutched the hand of friend Nicole Servel, whose husband died in the disaster.
The ship - roughly twice the size of the Titanic - will be dragged up the Corsica channel by two tug boats at a speed of just two knots per hour, and is expected to reach Genoa in four days, weather permitting.
The length of three football fields, the crippled vessel will first be manoeuvred into position by British and Spanish tug boats in a complex operation beginning at 6.30pm, NZ time.
A Dutch tug boat and a Vanuatu-flagged one will then tow the 290m vessel away around 12pm NZ time while 12 other boats will sail in a convoy alongside, carrying divers, engineers, a medical team and environmental experts.
Watch: Costa Concordia prepares for towing

South African salvage master Nick Sloane - who has described removing the ship as the "biggest challenge" of a career that has taken him to six continents and two warzones - said he was ready to "wave goodbye to Giglio".
A 17-person team of salvage workers will be on the Concordia itself during the journey. The doomed ship struck rocks just off the Mediterranean island on the night of January 13 with 4,229 people from 70 countries on board, just as many passengers were sitting down for supper on the first night of their cruise.
The crash tore a massive gash in its hull and the ship veered sharply as the water poured in, eventually keeling over and sparking a panicky evacuation.
The ship's captain Francesco Schettino is on trial for manslaughter, causing a shipwreck and abandoning the ship before all the passengers had been evacuated - even though he has claimed that he fell into a lifeboat.
- AFP