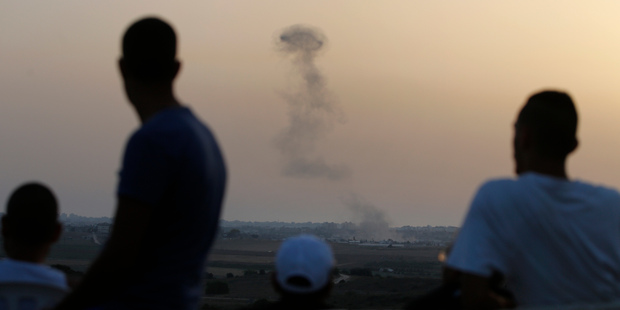 The seven children of Kibbutz Alumim, located just 3.3km from Israel's border with Gaza, have a new game.
A parent explains. "You kidnap me, you give me back and then I'll kidnap you - that's how it goes," says Esther, a mother of four, who moved to Israel from London 30 years ago.
Violence and kidnapping are the last things one might associate with such an idyllic-looking village. Yet yesterday alone, at least 10 rocket alarms had sounded, each sending the residents fleeing to bomb shelters.
The day before, militants from Gaza had entered Israel through tunnels and emerged in residential communities just a few kilometres away from this one.
According to the Israeli military, the purpose of the militants was not only to kill but also to kidnap, as was evidenced by the equipment they carried, which included syringes, tranquillisers, plastic handcuffs and even Israeli uniforms.
"The main thing is that we can't really leave our houses," says Esther, describing her fear of militants from Gaza infiltrating the area near the community that has been declared a closed military zone by the Israeli Defence Force.
"In the morning, the kids come here to the children's house, and stay here the whole day. Look around you, we live on a farm, and we can't take advantage of it."
Loud explosions from Gaza are heard every few minutes and often resonate well into the night. Some are so powerful they make windows rattle.
In the nearby town of Sderot, Yula, resident of Kibbutz Aza, also on the Gaza border, has decided she and her husband will leave the kibbutz due to concerns about tunnel infiltration.
Many other residents have left their homes - only those without small children remain.
For some older children, their situation gives them pause for thought. They have never met anyone from Gaza, they say, and they find themselves thinking about what life is like on the other side.
"I hear the noise here, and I think about what they must be hearing there," says Eden, 13. "And the terrorists there use the children as human shields."
Yet despite the empathy, asked if they think there will be peace, Eden and her friends shake their heads in unison. "No."