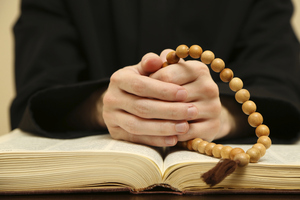 A Catholic priest has been arrested in Italy on suspicion of dealing drugs at a party.
Stefano Maria Cavalletti, 45, said he had taken to drugs because he was suffering from depression after being found guilty last year of defrauding an elderly woman of 22,000 ($34,265).
Father Cavalletti, who despite the conviction is still a priest, was allegedly selling cocaine at the party in Milan. He was arrested after neighbours complained about the noise from the late-night gathering and called the police.
He allegedly tried to flush the cocaine down a lavatory, and also attempted to tear up his passport, which he was carrying with him, so as not to be identified.
The priest was the only person arrested.
He was found guilty last September by a court in Verbania of trying to swindle the old woman of her savings.