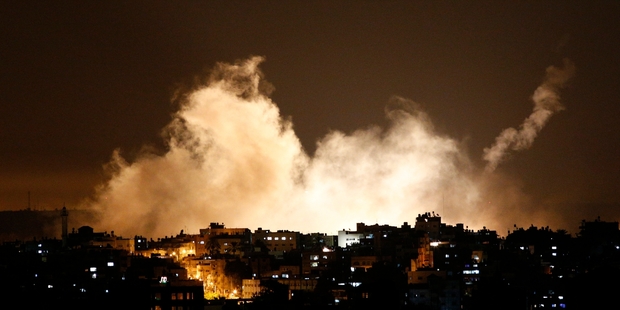 The heavy thud of tank shells, often just seconds apart, echoed across the Gaza Strip yesterday as thousands of Israeli soldiers launched a ground invasion, escalating a 10-day campaign of heavy air bombardments to try to destroy Hamas' rocket-firing abilities and the tunnels militants use to infiltrate Israel.
Flares lit up the night sky before dawn and the wail of ambulance sirens mixed with the Muslim call to prayer from mosque loudspeakers as thick smoke rose into the air from sites where shells and missiles struck.
Israel's Prime Minister said he had ordered the military to prepare for a "significant expansion" of its ground operation against Gaza militants.
Benjamin Netanyahu said that the military has been instructed to deliver a blow to the Hamas tunnel network, which it could not do "only from the air".
An official in the Gaza security operations room said: "There is a tank shell every minute." He said all of the seaside strip's border areas were being shelled and that Hamas fighters were exchanging fire with Israeli troops near a northern Gaza town.
"There is also fire from the sea towards police checkpoints."
Israel launched the offensive yesterday after becoming increasingly exasperated with unrelenting rocket fire from Gaza on its cities, especially following Hamas' rejection of an Egyptian ceasefire plan earlier in the week. Palestinian militants have fired more than 1500 rockets at Israeli cities since fighting began.
A ground offensive could quickly lead to military and political entanglements for Israel, especially if more Palestinian civilians are killed. The first Israeli soldier of the conflict was killed yesterday while 19 Palestinians have been killed since the ground operation began. More than 240 Palestinians have died in the air campaign, including 14 children under age 12 killed over the past