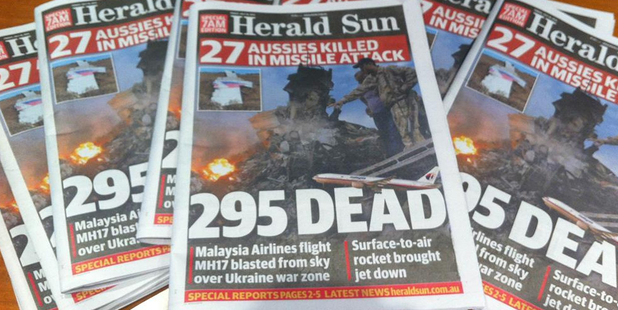 There were 298 people, including 154 Dutch nationals, on board the Malaysia Airlines flight that crashed in strife-torn eastern Ukraine, the carrier said.
The flight "was carrying a total number of 298 people -- comprising 283 passengers including three infants of various nationalities and 15 crew of Malaysian nationality," the airline said in an emailed statement.
Air traffic control lost contact with the Boeing 777-400 around 14:15 (12:15 GMT) near the Russian-Ukrainian border, Malaysia Airlines has said.
Read more:
• Crash witnesses: 'Those poor people'
• Why do airlines fly over the Ukraine?
• Intercepted call: 'We just shot down a plane'
The flight took off from Schiphol airport in Amsterdam shortly after noon Thursday and was supposed to land in Kuala Lumpur at around 6:10 am Friday local time.
Malaysia Airlines will send a team to Ukraine on Friday to help with the investigation.
Another plane will also be made available to grieving relatives wanting to visit the crash site, an official said.
Here is a collection of newspaper front pages from around in world in the wake of the tragedy:
The Guardian UK
Guardian front page, Friday 18 July 2014: Murder in the sky: missile destroys jet and kills 295 pic.twitter.com/zWLqc6Mru0

— The Guardian (@guardian) July 17, 2014
The Independent
SHOT OUT OF THE SKY. Tomorrow's @Independent front page: pic.twitter.com/2Ane6y3Pha

— amol rajan (@amolrajan) July 17, 2014
THE I FRONT PAGE: "Horror at 33,000 feet" #skypapers pic.twitter.com/ixwYZwVKs0

— Sky News (@SkyNews) July 17, 2014
The Times of London
Tomorrow's front page: 'Blown out of the sky' http://t.co/h1UoWgxV5x pic.twitter.com/hm87o2UNA4

— The Times of London (@thetimes) July 17, 2014
Daily Mail UK
Friday's @DailyMailUK #MailFrontPages pic.twitter.com/JvB4qIr2Mb

— Daily Mail U.K. (@DailyMailUK) July 17, 2014
The Sun
Tomorrow's front page: At least 6 Brits dead after flight #MH17 is shot out of the sky... pic.twitter.com/fUSYbCjlVK

— The Sun (@TheSunNewspaper) July 17, 2014
Daily Mirror
Friday's front page: Dedicated to the horror of Malaysia Airlines flight #MH17. http://t.co/y8913X8eNn pic.twitter.com/hhmtvwGJwh

— Daily Mirror (@DailyMirror) July 17, 2014
Financial Times
Just published: front page of the Financial Times US edition Fri Jul 18 pic.twitter.com/Wyo5RfYASz

— Financial Times (@FT) July 17, 2014
The Star
#MH17 front page of Malaysia's Star newspaper @staronline pic.twitter.com/5kEkfS4taU

— Paperboy (@frontpagestoday) July 17, 2014
Herald Sun
Herald Sun special edition on #mh17 available in Melbourne CBD from 10am pic.twitter.com/KlLucsaU9m

— Herald Sun (@theheraldsun) July 17, 2014
The Daily Telegraph
DAILY TELEGRAPH FRONT PAGE: "Airliner blown out of the sky" #skypapers pic.twitter.com/k66tf7Yle6

— Sky News (@SkyNews) July 17, 2014
Daily Express
DAILY EXPRESS FRONT PAGE: "295 killed as jet shot down" #skypapers pic.twitter.com/AdvXo9fUXl

— Sky News (@SkyNews) July 17, 2014
Metro
Friday's 'Metro' front page: Blasted out of the skies #MH17 #MalaysiaAirlines pic.twitter.com/xqYZmq9CUH

— cf (@cfmcfc) July 17, 2014
Nrc Next
Dit is de voorpagina van @nrcnext morgenochtend pic.twitter.com/m4JEy8HFRV

— NRC (@nrc) July 17, 2014
- nzherald.co.nz/AFP