A New Zealand woman has been confirmed as being among the victims of the Malaysia Airlines crash.
Foreign Affairs Minister Murray McCully confirmed the death and said another person, a British citizen who had been living in New Zealand, was also killed.
The New Zealand woman, a longtime resident of Australia, was travelling with her husband, a Dutch citizen.
Read more:
• Flights taken over war zones 'because it's cheaper'
• MH17 intercepted call: 'We just shot down plane'
• MH17: Newspaper front page headlines
The British citizen was also travelling with a spouse.
Mr McCully, speaking at a press conference this afternoon, called the MH17 crash a "terrible tragedy".
"Our thoughts are with the families and friends of those involved," he said.
Mr McCully warned there was a possibility more New Zealanders could be among the 298 who were aboard.
"The identities of all those on board was still to be confirmed," he said.Mr McCully said the families, who were being supported, had asked for privacy.
Watch: Obama describes crash as 'terrible tragedy'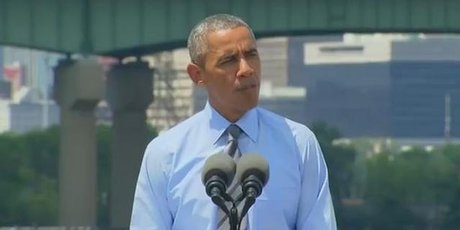 Mr McCully said he would be asked the acting secretary of foreign affairs to call in the Russian ambassador this afternoon to make clear the expectation of the New Zealand government that there would be every co-operation with independent investigators and those carrying out consular work.
He said while it was not Russian soil, Russia had influence there, and "we will be posing those questions formally".
The New Zealand Ministry of Foreign Affairs has a help line for those who think family members may have be on the flight: 04 439 8000.
The Malaysia Airlines help line for family members of passengers is: +603 7884 1234.
Other airlines had abandoned route
Watch: Fireball from Malaysia Airways plane impact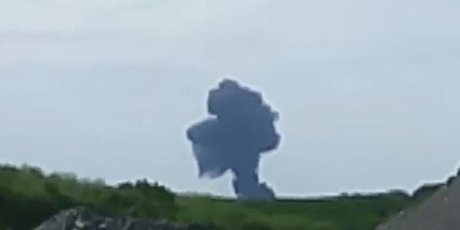 The Malaysian airliner apparently shot down over rebel-held eastern Ukraine was flying over airspace that a number of other Asian carriers abandoned months ago because of security concerns.
South Korea's two main airlines, Korean Air and Asiana, as well as Australia's Qantas said they all rerouted flights from as early as the beginning of March when Russian troops moved into Crimea.
"We stopped flying over Ukraine because of safety concerns," Asiana spokeswoman Lee Hyo-Min said.
Korean Air re-routed its flights 250km (160 miles) south of Ukraine "due to the political unrest in the region", an official for the carrier told AFP.
A Qantas spokeswoman said its London to Dubai service used to fly over Ukraine, but the route was changed "several months ago".
Quizzed as to why Malaysia Airlines had not taken similar precautions, Malaysian Prime Minister Najib Razak said earlier Friday that international air authorities had deemed the flight path secure.
"The aircraft's flight route was declared safe by the International Civil Aviation Organization. And (the) International Air Transportation Association has stated that the airspace the aircraft was traversing was not subject to restrictions," he said.
Other Asian carriers such as Indonesia's Garuda, Japan Airlines and All Nippon Airways said their routes had never crossed Ukraine.
Watch: 'Plane did not make distress call'

Steward's tragic choice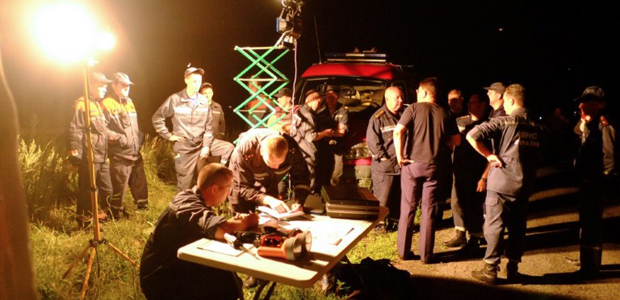 First-aid workers gather on the site of the crash. Photo / AFP
A 41-year-old steward's last minute decision to board Malaysian Airlines flight MH17 has devastated his family.
The Malaysian Insider reported that Sanjid Singh had swapped flights to fly on the Kuala Lumpur-bound Boeing 777.
His wife, who is also a stewardess, had swapped out of flight MH370, which has been missing since March.
The father of the steward, 71-year-old Jijar Singh, sobbed as he said was eager to see his only son after the flight.
A list which names the 15 crew members on board Malaysia Airlines flight MH17 shows they were all Malaysian.
'Those poor people'
Watch: Malaysian plane shot down over Ukraine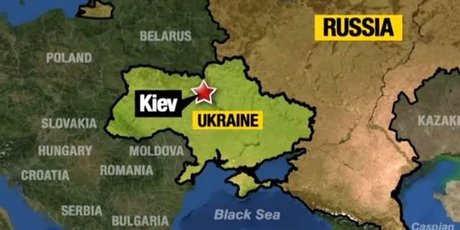 Body parts strewn through kilometres of debris, luggage littered down country roads, smouldering remnants of a passenger plane in a cornfield: the terrible carnage at the east Ukraine crash site of Malaysia Airlines flight MH17.
"These poor people," says shell-shocked local resident Natalia, standing in front of her home near the epicentre of the devastation.
"Do you think they understood anything about this war in Ukraine? Even we don't understand it."
In a nearby field the tail fin of the Boeing-777 painted with the colours of Malaysia Airlines lay in a meadow with some of the baggage and personal items of the 295 people on board littered around.
Dozens of brutally mutilated corpses lie among the debris. The torsos of two passengers remain strapped into the charred remnants of their seats.
In the middle of country lane a severed foot bears witness to the ferocity of the disaster. There are no traces of any survivors.
"I don't see how anyone could have come through this," says Oleg, a separatist fighter, adding that he helped collect 13 bodies. "They were in pieces."
Eyewitnesses told AFP that there was a loud explosion and the plane appeared to disintegrate in mid-air before debris rained down. People in a village some 9 kilometres away reported finding remnants of the plane.
Some it is still aflame and there is a strong smell of kerosene all around.
Read more:
• Why do airlines fly over the Ukraine?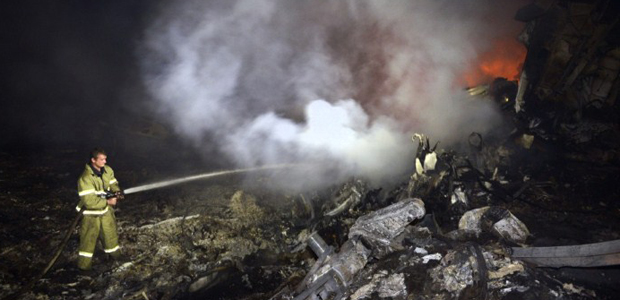 The wreckage of the Malaysia Airlines jet. Photo / AFP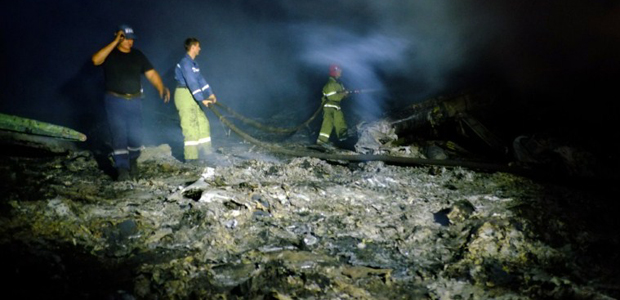 Firefighters amongst the wreckage of the jet. Photo / AFP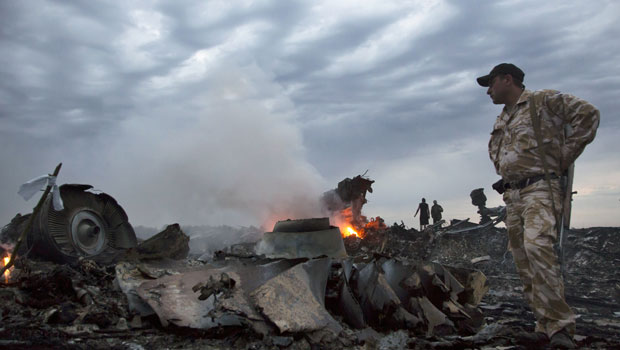 People stand next to the wreckage of the jet. Photo / AP
Like an earthquake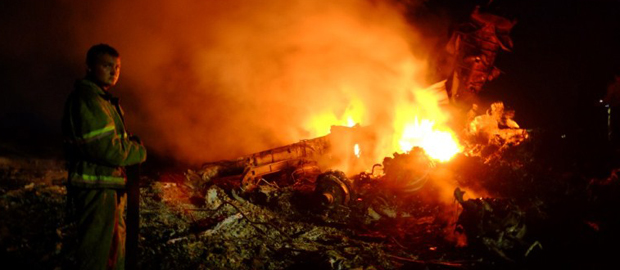 A firefighter stands as flames burst amongst the wreckage. Photo / AFP
"I had just gone to sleep at around 1600 (1am NZ time) when I heard an enormous bang," Katya, 64, said. "It was like an earthquake."
Her son-in-law Alexander, 43, points at blackened burn marks on the fence around his farm that was scorched by the flaming shards falling from the sky.
Nearby lie a landing gear and a large chunk of the plane's fuselage.
"The grapevines have also been burnt. We were very, very lucky" to have escaped unharmed, he says.
Up till now the fighting that has rocked eastern Ukraine had not affected their quiet homestead but over the past several days the rumble of fighting has reached a neighbouring district closer to the Russian border and the occasional Ukrainian fighter jet had whooshed overhead.
The first help arrived some 20 minutes after the crash happened but there appeared to be no hope of finding anyone alive.
Two fire fighters stand in a field holding a water hose and seemingly helpless before the scale of the destruction.
"Our bosses need to set up a headquarters here and tell us what we can do and then we will do it," one of them says despondently.
As night falls over the site, there are neither lights nor frantic recovery operation.
The firefighters are illuminated by the headlamps of their trucks and in the fields lie the victims of the disaster.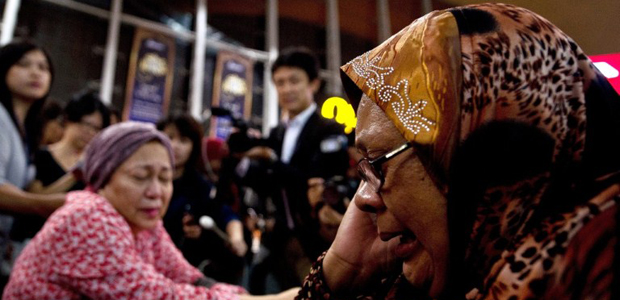 Relatives of passengers from Amsterdam outside the family holding area at the Kuala Lumpur International Airport. Photo / AFP
AIDS conference attendees on downed Malaysian jet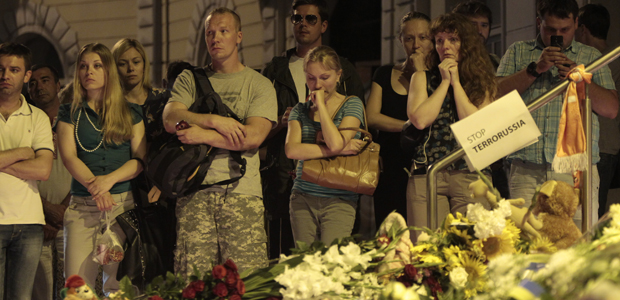 People stand near flower tributes placed outside the Dutch embassy to commemorate victims of the crash. Photo / AP
Several passengers on board a Malaysian jetliner shot down over Ukraine were world-renowned researchers heading to an international AIDS conference in Australia, officials said.
"A number of people" on board the Boeing 777 were en route to the southern Australian city of Melbourne to attend the 20th International AIDS conference, Australian Foreign Affairs Minister Julie Bishop told reporters in Brisbane.
Among the passengers was former president of the International AIDS Society Joep Lange, a well-known HIV researcher from the Netherlands, opposition leader Bill Shorten said in parliament.
"There are Australians who would have planned to be at the airport tomorrow night to greet friends and family — amongst them, some of the world's leading AIDS experts," Shorten said. "The cost of this will be felt in many parts of the world."
Former US President Bill Clinton will deliver an address at next week's AIDS conference, which brings together thousands of scientists and activists from around the world to discuss the latest developments in HIV and AIDS research.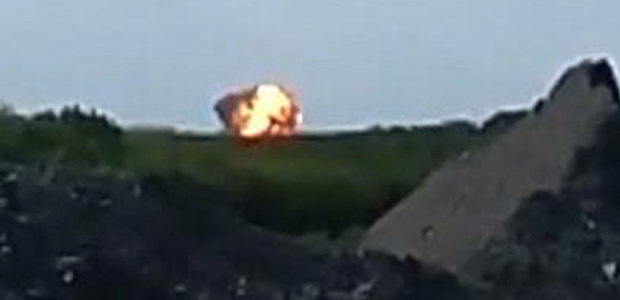 A fireball seen shortly after the crash. AP/Amateur Video accessed by APTV
House of Representatives Speaker Bronwyn Bishop called for a moment of silence in parliament to honour the victims, adding that she was scheduled to address the AIDS conference.
"I know there will be many empty spots," Bishop said. "And I think that what we're doing is mourning with all of the world and all that had been lost. And we want to see justice but in a measured way."
The International AIDS Society issued a statement expressing its grief over the news that several of its colleagues and friends were on board.
"At this incredibly sad and sensitive time the IAS stands with our international family and sends condolences to the loved ones of those who have been lost to this tragedy," the group said.
Downed civilian aircraft
Watch: Firefighters arrive at jet wreckage - raw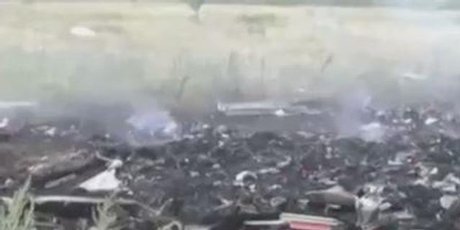 In the wake of the Malaysia Airlines tragedy, here are some previous cases over the past four decades of downed civilian aircraft:
• October 4, 2001:
78 people, mostly Israelis, were killed when their Russian Sibir Tupolev-154, flying from Tel Aviv to Novosibirsk, exploded in mid-flight over the Black Sea. The crash happened less than 300 kilometres from the Crimean coast. A week later Kiev admitted that the disaster was due to the accidental firing of a Ukrainian missile.
• July 3, 1988:
An Airbus A-300 belonging to Iran Air, flying from Bandar Abbas in Iran to Dubai in the United Arab Emirates, was shot down shortly after take-off by two missiles fired from a US frigate patrolling the Strait of Hormuz, apparently mistaking it for a fighter aircraft. The 290 passengers on board were killed. The United States paid Iran $101.8 million in compensation.
• September 1, 1983:
A South Korean Boeing 747 of Korean Air was shot down by Soviet fighter jets over the island of Sakhalin, after veering off course. Some 269 passengers and crew members were killed. Soviet officials acknowledged five days later that they had shot down the South Korean plane.
• June 27, 1980:
A DC-9 belonging to the now defunct Italian airline Itavia, flying from Bologna to Palermo with 81 people on board, exploded in mid-flight near the island of Ustica, off Sicily. The hypothesis that a missile was fired in error by American or French fighter jets was denied by Washington, while the French defence ministry refused to comment.
• February 21, 1973:
A Libyan Arab Airline Boeing 727 flying from Tripoli to Cairo was shot down by Israeli fighter jets over the Sinai dessert. All but four of the 112 people on board were killed. The Israeli air force intervened after the Boeing flew over military facilities in the Sinai, then occupied by Israel. The Israeli authorities said fighters opened fire when the plane refused to land.
Next article - Intercepted call: 'We just shot down plane'
- AFP / AP