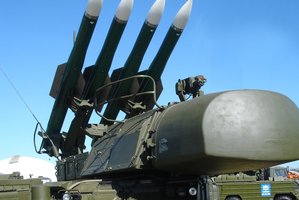 The BUK surface-to-air missile system believed to have shot down Malaysian Airlines flight MH17 is an old Soviet-built weapon designed to engage aircraft, cruise missiles and drones.
They are capable of taking down aircraft the size of a Boeing 777 flying at a cruising altitude of 33,000 feet, meaning the intensity of the impact is likely to have blown the plane apart in the sky.
Witnesses says wreckage and body parts of the passengers and crew are scattered over an area of around nine miles, reinforcing the idea that the plane broke up mid-air.
BUK missile systems have large self-propelled launchers that use radar to engage aircraft or missiles up to an altitude of 75,000 feet.
A launcher similar to the BUK missile system was seen earlier today by journalists near the eastern town of Snizhne, which is held by pro-Russia rebels.
The BUK, developed by the Soviet Union in 1979, has remained widely in use throughout the former Soviet states, including Ukraine.
Until then it was assumed the only surface-to-air missiles in rebel hands were shoulder-held launchers with a maximum engagement range of 10,000 feet.
In a statement Donetsk separatist leader Andrei Purgin said that he was certain that Ukrainian troops had shot it down but gave no explanation for that statement.
Purgin said he was not aware of whether rebel forces owned BUK missile launchers, but even if they did, there had no fighters capable of operating it.
The Ukrainian authorities have laid the blame for the attack on the rebels by denying any responsibility for the missile launch.
Flight MH17, which was carrying 280 passengers and 15 crew, was flying between Amsterdam and Kuala Lumpur after taking off at lunchtime today.
TV pictures from the scene showed a pall of smoke billowing into the sky near Donetsk, apparently from the stricken aircraft.
Earlier, pro-Russia rebels claimed responsibility for surface-to-air missile on two Ukrainian Sukhoi-25 jets yesterday.
The Ukrainian Defense Ministry said the second jet was hit by a portable surface-to-air missile - not a BUK - adding that the pilot was unscathed and managed to land his plane safely.
To shoot down a commercial airliner at cruising altitude would require advanced anti-air missile systems. Among the easiest systems to employ would be man-portable air-defense systems, known as MANPADS. But some experts ruled out that possibility.
"First off, a MANPAD did not shoot down that airliner," a former Marine Special Operations member trained in air defense systems said. "A MANPADS original purpose is for low-flying aircraft with high-heat signatures."
"Like helicopters," he added.
MANPADS have been known to target commercial aircraft - but usually only during takeoff and landing, when the jets are moving the slowest and are the most vulnerable. A DHL transport plane was struck by an SA-14, a type of MANPAD, shortly after departing Baghdad international airport in 2003.
"MANPADS don't have the fuel to continue tracking a fast moving target at high altitude," said the special operations member, who spoke on condition of anonymity because he was not authorized to speak publicly.
Pro-Russian separatists have denied allegations that they brought down the aircraft, saying they lack weapons systems that would be able to target an airliner at a cruising altitude near 30,000 ft. At the same time, rebels in eastern Ukraine claimed that they had shot down a Ukrainian transport plane earlier this week. That plane, an IL-76, was shot down at 21,000 ft, according to U.S. officials. Three crew members were killed.
Both Russia and Ukraine have moved advanced air defense systems near their borders in recent months, including the SA-17 Buk 2. The SA-17, known to NATO countries as the "Grizzly," is an advanced iteration of the SA-11 "Gadfly" and is fielded by a number of countries.
The SA-17 is a surface-to-air missile system that can be fired from either a wheeled or a tracked chassis and can engage aircraft at anywhere from altitudes of roughly 32 feet to 78,000 feet, putting flight MH17 easily within range.
The SA-17 guides its missiles via a radar array, unlike MANPADS, which mostly use a heat signature for guidance.
Flight MH17 was a Boeing 777-200, with a wingspan of 199 feet, while the Il-76, the aircraft shot down Monday in eastern Ukraine, has a wingspan of 165 feet.
"To a radar operator, the two aircraft might look similar," said Navy Pilot Lt. James Swiggart, who has flown early-warning aircraft.
However, Swiggart explained, advanced surface-to-air systems like the SA-17 are transponder aware, meaning they can detect if they are targeting an airliner. Civilian airlines are constantly broadcasting a four-digit transponder, known as an IFF code, that designates aircraft as civilian. The code would be detected by the SA-17 if the weapons system attempted to lock on or "paint" MH17.
"It's easy to tell the difference between a civilian aircraft or not, if you're a skilled radar operator," Swiggart said. "There's really no excuse to shoot down an airliner unless you were trying to."
Swiggart added that airliners fly well-established routes at regulated speeds. And while military aircraft have an advanced warning system in case they are being targeted by anti-aircraft missiles, civilian aircraft have no such device.
"They would have had no idea," Swiggart said.

- Daily Mail and Washington Post