Israel and Hamas have agreed to a UN request to halt hostilities for five hours on humanitarian grounds, after its naval strikes killed four children on a beach.
Israel's punishing strikes aimed at halting cross-border rocket fire by Hamas militants had resumed after Egyptian-brokered truce efforts collapsed on Tuesday.
Israel's 10-day campaign has killed 223 Palestinians so far, with a Gaza-based human rights group saying more than 80 per cent of them were civilians.
In the same period, Hamas militants have fired more than 1200 rockets at Israel. They claimed their first Israeli life on Tuesday.
The army said early today that 82 rockets had hit Israel yesterday and more than 30 were intercepted by Israel's missile defences.
Hamas had earlier rejected the Egyptian truce efforts, saying it had not been included in the discussions.
However, Hamas has now agreed to honour the temporary Gaza ceasefire.
"The group agrees to a ceasefire for five hours," starting from 10am local time (7pm NZT), Hamas spokesman Sami Abu Zukhri said in a statement.
"The Palestinian factions agreed to accept the offer from the United Nations for a cooling-down on the ground for five hours starting from 10 in the morning," he told AFP.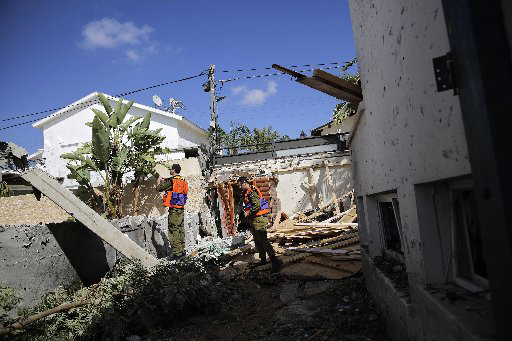 Israeli soldiers inspect damage after a Hamas rocket hit the Israeli city of Ashkelon. Photo / AP
The Israeli army announced it would also halt its bombardment of Gaza between 10am and 3pm today, following a UN request for a humanitarian truce.
UN Special Coordinator for the Middle East peace process Robert Serry earlier told Israel's Channel Two television, that he had asked the military for a "humanitarian pause" in its Gaza offensive and that, if it agreed, he would ask Gaza militants to follow suit.
As part of the peace initiative, a Hamas official met Egyptian leaders while Palestinian president Mahmud Abbas arrived in Cairo to join the diplomatic efforts.
Children all from the same family
The four boys, who were cousins and ages 9 to 11, were killed while playing on a beach off a coastal road west of Gaza City, said Ashraf Al Kedra, a Palestinian doctor. Seven others adults and children were wounded in the strike, which Palestinian human rights activist Khaki Au Shamalla came from an Israeli naval vessel operating offshore.
The boys' uncle, Abdel Kareem Baker, 41, raged at Israel after the attack.
"It's a cold blooded massacre," he said. "It's a shame who come they didn't identify them as kids with all of the advanced technology they claim they're using."
The Israeli military said it was looking into the incident.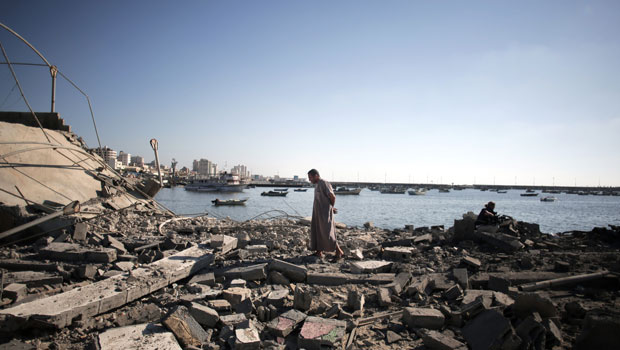 A Palestinian man inspects damage following an Israeli missile strike killed four boys from the same extended family in Gaza City. Photo / AP
In addition to the four children who died, several people were also wounded in an apparent Israeli naval bombardment of a beach in Gaza City yesterday, medics said.
The first strike scattered terrified children and adults on the beach. A second and third struck as they ran, setting fire to huts on the beach.
The strikes appeared to be the result of shelling by the Israeli navy against an area with small shacks used by fishermen.
Several children, at least three had shrapnel injuries, ran inside a hotel.
Several hours after the strikes, the Israeli military described the deaths as "tragic" and said it was investigating the incident.
"Based on preliminary results, the target of this strike was Hamas terrorist operatives," the military said in a statement.
"The reported civilian casualties from this strike are a tragic outcome."
Hamas feels isolated
Hamas official Sami Abu Zuhri said yesterday that Hamas feels "alone in the field" with little support from the Arab world.
He called on Palestinian President Mahmoud Abbas, of the rival Fatah faction in the West Bank, to support Hamas' refusal of an Egyptian cease-fire deal.
The Gaza Interior Ministry's website said Israel warplanes carried out dozens of airstrikes yesterday, targeting 30 houses, including those of senior Hamas leaders Mahmoud Zahar, Jamila Shanti, Fathi Hamas and Ismail Ashkar.
The Israeli military did not immediately comment on the strikes.
Zahar was a key figure in Hamas' violent takeover of Gaza in 2007, while the other three were members of the Palestinian parliament elected in 2006. Many Hamas leaders have gone into hiding since the beginning of the Israeli offensive.
Failure of Egypt's proposal - and the deadly effect
An Egyptian proposal had earlier called for a halt in hostilities by Tuesday night to be followed by talks on the terms of a longer-term cease-fire, including easing Gaza's 7-year-old border blockade by Israel and Egypt.
The militant group views a significant easing of the Israeli blockade as key to its survival, but does not believe Egypt's current rulers, who deposed a Hamas-friendly government in Cairo last year, can be fair brokers.
As Cairo's effort collapsed, Israeli Prime Minister Benjamin Netanyahu warned that Hamas would pay a high price for rejecting the truce offer.
Alongside the airstrikes, Israel also told tens of thousands of residents of the northern town of Beit Lahiya and the Zeitoun and Shijaiyah neighborhoods of Gaza City, all near the border with Israel, to evacuate their homes by 8am yesterday. The warnings were delivered in automated phone calls, text messages and leaflets dropped from planes.

Smoke rises after an Israeli missile strike hit the northern Gaza Strip. Photo / AP
The Israeli military said in its message that large numbers of rockets were launched from these areas and that Israel plans to bomb these locations.
"Whoever disregards these instructions and fails to evacuate immediately, endangers their own lives, as well as those of their families," the message said.
Yesterday morning, hundreds of residents of Zeitoun and Shijaiyah were seen walking in the streets, carrying small bags with belongings.
The Wafa Rehabilitation Center in Shijaiyah, which cares for 15 disabled and elderly patients, received several calls demanding the patients evacuate, said its director, Basman Ashi.
He said an Israel shell hit near the building, causing damage to the second floor, but no injuries. Ashi said he won't evacuate because his elderly patients have nowhere to go.
Four foreign volunteers from England, the US, France and Sweden set up camp at the rehabilitation centre to deter the military from targeting it.
English volunteer Rina Andolini, 32, said the patients range in age from 12 to over 70 and none can walk or move without assistance. She said there are also 17 Palestinian staff members.
Andolini said the patients are living in a constant state of fear, intensified by the Israeli tank shelling from across the border.
When asked about the situation at the rehabilitation centre, the office of the Israeli military spokesman said its residents "have been asked repeatedly to leave."
"There is a rocket launching site in the area," the military said, adding that Gaza militants use the centre to hide "behind civilians."
Only one Israeli has so far died in the conflict - a civilian distributing food to soldiers in southern Israel on Tuesday evening - largely because of the effectiveness of Israel's Iron Dome air defense system in downing incoming rockets.
- AFP, AP