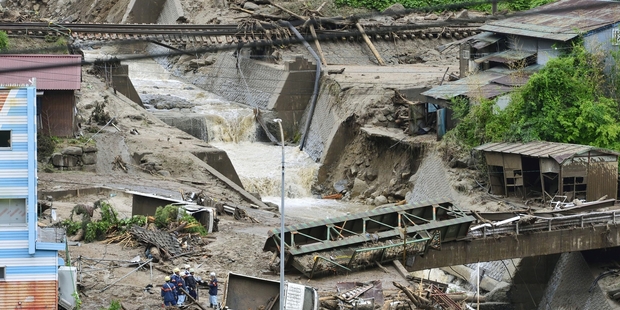 A strong earthquake hit Japan's northern coast yesterday near the nuclear power plant crippled in the 2011 tsunami. At least one person was injured and a small tsunami was triggered, but no damage was reported.
The Meteorological Agency said the magnitude-6.8 quake struck 10km below ground off the coast of Fukushima. It shook buildings in Tokyo, about 250km southwest of the epicentre.
A 20cm tsunami reached the coast of Ishinomaki Ayukawa and Ofunato about 50 minutes after the quake and smaller waves were observed at several other locations. In Fukushima, a 68-year-old woman fell down some stairs and broke her leg, according to police.
Eight towns devastated by the March 2011 earthquake and tsunami, including Rikuzentakata, Higashi Matsushima and Otsuchi, issued evacuation advisories to thousands of households along the northern coast, along with schools and community centres.
Fukushima Dai-ichi - the plant hit badly in the 2011 disaster - and two other nuclear power plants, along with other nuclear facilities along the coast, found no abnormalities, and their reactors and fuel storage pools were being cooled safely, according to the Nuclear Regulation Authority.
The 2011 disaster killed about 19,000 people and triggered multiple meltdowns at the Fukushima plant. More than 100,000 people are still unable to go home because of fear of radiation contamination from the plant.
The Ministry of Foreign Affairs and Trade is liaising with the New Zealand Embassy in Tokyo but no request for help has been made.
Seven of the 1004 New Zealanders registered as being in Japan are in the Fukushima Prefecture. The quake followed Typhoon Neoguri, which swept along Japan's eastern coast on Thursday and Friday, bringing torrential rain and triggering fatal landslides and floods. NHK reported 49 injuries and three deaths related to the storm.
- AP